You Say You Want a Gourmet Kitchen
Whenever a homeowner tells me they want a gourmet kitchen, the first thing we talk about is what a gourmet kitchen looks like to them. The word "gourmet" means different things to different people, so I want to make sure we are on the same page.
The general understanding is that a gourmet kitchen is about the food enthusiast's love of preparing, cooking and eating the finest foods, using the best appliances and equipment. I like to add that it means a kitchen personalized to the cook's wants, needs, preferences, style and individuality.
When people who are passionate about cooking say they want their new kitchen to be "gourmet", my design process becomes more complicated. Everything, from the layout and appliances to storage, lighting, cabinet finish and flooring material, becomes super-personalized.
Let's Begin with Some Questions
To begin, I will ask a lot of thorough questions because each of your responses has its own set of needs and requirements. I'll ask you questions about what kind of cookware you use, what types of meals you prepare, where you entertain most often and the special storage requirements your may have.
The Basic Design Elements of a Gourmet Kitchen
As a kitchen designer, I've learned over the years that every gourmet kitchen includes some features in common. We'll look at each one individually.
Lots of Functional Space
A top priority for a gourmet kitchen is that it must have lots of space and a good work flow. There is always a lot going on in the kitchen, so plenty of space to move around in is critical.
Gourmet cooking is more complicated than simple meat-and-potatoes cooking. As a result, more steps are involved. Someone cooking a gourmet meal must be within arm's reach of the sink, refrigerator, cooktop and trash bins. Think of how many steps you will need to take to prepare a delicious gourmet recipe such as coffee marinated lamb chops with balsamic reduction. Timing is everything, and all ingredients and equipment must be close.
Main Features of a Gourmet Kitchen
We will design and equip your gourmet kitchen according to what you need to cook at a professional level. Requests from previous clients have included these things:
Space for multiple people to cook and prepare food comfortably at the same time. An open floor plan isn't necessary but it's helpful.
A kitchen layout based on the work triangle that connects the fridge, sink and stove and reduces steps for the cook.
The Range and Ovens
The range is probably the most important feature in a gourmet kitchen because accurate, consistent temperature is critical to successful gourmet cooking.
o A Wolf range is the gold standard for home cooking chefs who demand high performance. Their gas range with six burners that operates with high BTUs is most often requested.
o Dual-fuel ranges are popular with serious cooks – gas for high heat and electric burner(s) for tasks requiring lower heat.
o Induction cook tops are also popular because they heat up quickly and deliver heat directly from the source to the pan.
Other Appliances
The Sub-Zero refrigerator is the best of the best. It's the one most requested by serious cooks who understand the importance of keeping their ingredients fresh.
It goes without saying – a professional grade dishwasher is a must. Bosch and Miele are the best dishwasher manufacturers in the world. Whirlpool is a top brand when it comes to reliability.
Warming drawer(s) keep food hot and protect the moisture of food.
Microwave drawers are a great alternative to freestanding units that take up counter space.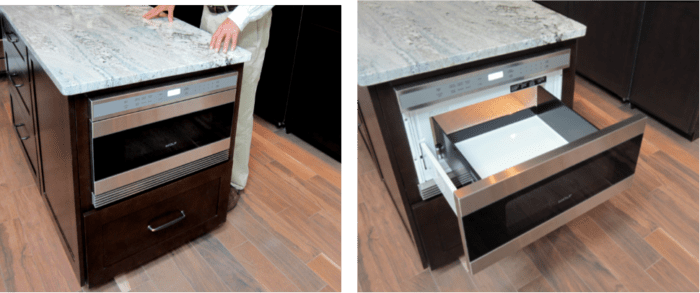 Industrial strength ventilation is a necessity because professional grade cooking appliances put off a lot of heat, smoke, aerosolized grease and vapor. Exhaust hoods can be decorative elements that match the cabinetry, as shown in the photo below.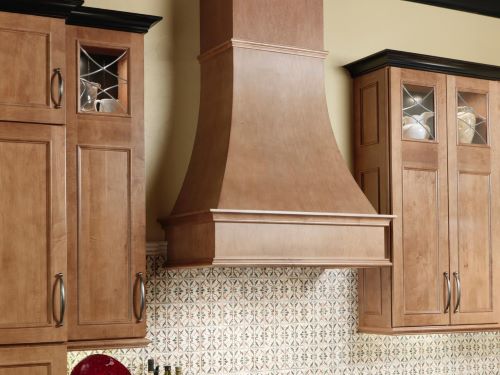 Appliances have gotten "smart" and connected. You can pretty much run your kitchen from your smartphone.
A pot-filler faucet over the stove to fill large pasta pots with water is convenient. It saves the cook from having to carry heavy pots from the sink to stove.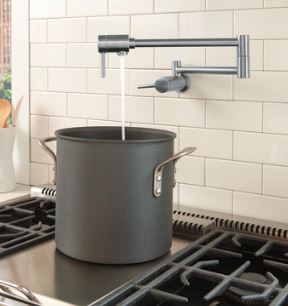 More Than One is Twice as Good
Multiple ovens, including convection and steam models, are ideal. Many items can be cooked at different temperatures at the same time.

A steam oven helps keep food moist while retaining natural minerals and vitamins.
A convection oven circulates hot air so food cooks uniformly, efficiently and quickly.

A secondary fridge located nearby – in a butler's pantry, laundry room or in the garage. Refrigeration should be sized for the everyday grocery items with enough space to store extras, like an appetizer tray or a sheet cake.
A refrigerator drawer located in the island, pantry or wet bar is ideal for storing drinks at a party or for your children to help themselves.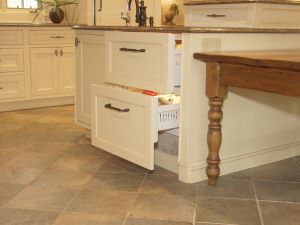 The gourmet cook will find that more than one deep sink can come in handy.
Some gourmet kitchens have more than one full-size dishwasher. Thus, dirty dishes aren't stacked in the sink until the first load is finished.
A dishwasher drawer can supplement the main dishwasher(s). A dishwasher drawer near a bar sink or entertaining area can take care of dirty glassware, while the main dishwasher is used for pots, pans and dishes.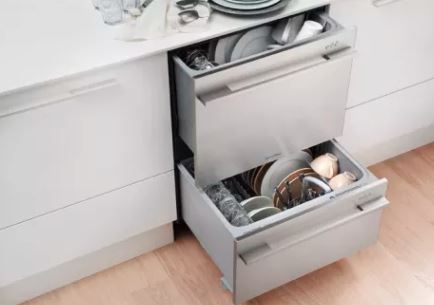 The home chef will definitely want her cooking essentials within reach. Organizers for spatulas and ladles, roll-outs in cabinets for pots and lids, storage for baking sheets and pull-outs with spices and oils by the cooktop will be on her must-have list.

Custom Cabinetry in the Gourmet Kitchen
Cabinetry is a crucial part of any kitchen design, but a gourmet kitchen needs cabinets that are practical as well as beautiful to look at.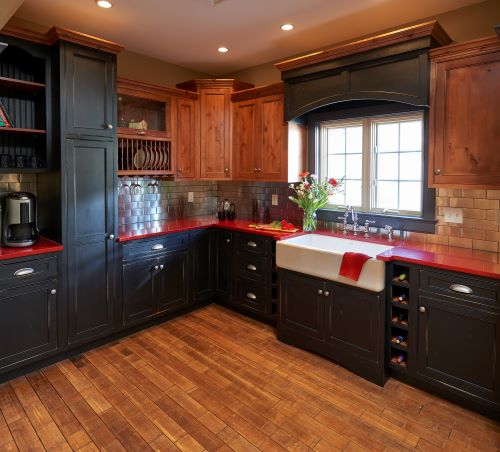 For example, the versatility of custom cabinets makes it so that they can be modified to change countertop heights, an important consideration for the chef's comfort. If she is tall or short, the countertop can be lowered or raised to accommodate her height. Dishwashers can be raised for people who are tall to reduce bending over and stooping. Countertops can be lowered to 30" for bakers when rolling or kneading dough.
Countertops Prized by Gourmets
Gourmet cooks choose materials for their countertops that can stand up to heavy use. Many options are available, but for the serious cook, not all of them will take the slicing, dicing, spilling and staining their work creates.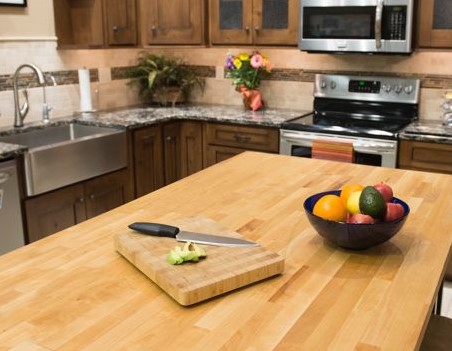 Stainless steel is used for countertops in restaurants, but this industrial look might not be popular for a home kitchen. Natural stone or manmade quartz (the most popular countertop material in the USA) are both durable, beautiful and available in any number of colors and patterns. Butcher block adds warmth and charm, and bakers love the coolness of marble for rolling out pie dough.
The gourmet – and, in fact, anyone remodeling their kitchen – can include more than one countertop material. For instance, the gourmet kitchen might have stainless steel countertops with a butcher block island top and a section of marble for the baking enthusiast.
Storage in the Gourmet Kitchen

A gourmet always needs lots of storage that is easily reached and organized so that everything is at their fingertips, rather than steps away. They need storage for their specialty equipment, like stand mixer, Instant Pot, slow cooker, food processor, sous vide cooker, power blender, Nespresso coffee maker, waffle iron, etc., plus specialized storage for the various items they need while cooking.
We've designed and included integrated paper towel holders in new kitchens. They're handy to reach but out of the way.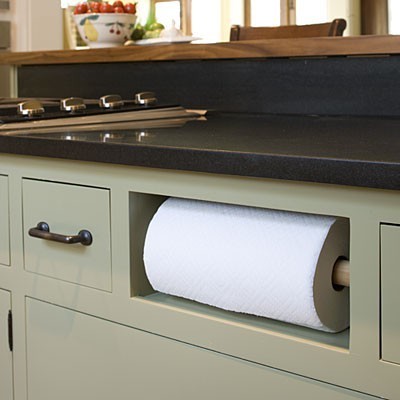 Open shelves near the range can store serving bowls, dishware and platters, like in a restaurant. Everything is ready to grab and go.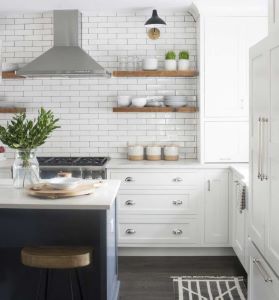 A built-in cutting board will save the cook some steps and time when chopping needs done.
The Gourmet Kitchen Sink
The size of the kitchen sink is more important than the material. A deep sink will fit large pots, and an undermount sink – one with no protruding lip – allows the cook to sweep food scraps from the counter straight into the sink to the garbage disposal.
A faucet that pulls out for spraying is a very handy feature. Hands-free faucets and hot water on demand are becoming common in gourmet kitchen design as well.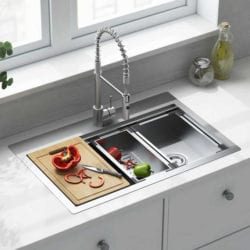 Lighting the Gourmet Kitchen
The gourmet chef's work goes much quicker, safer and more expertly when the lighting is suitable for all work spaces. Countertops and other kitchen work areas need lots of light – four times the normal amount of light in a dining room. Under-cabinet task lighting and ambient light from pendants and ceiling-mounted fixtures are all part of a well-lit kitchen.
The Island in a Gourmet Kitchen
Today's homeowners believe that no kitchen design is complete without an island at its center. Every customer I work with asks about an island. In fact, islands are by far the most requested feature. And this goes for any kitchen remodel project, it doesn't have to be a gourmet kitchen.
A kitchen island provides both counter and storage space. It can also double as a bar for seating family and friends. I've found that the island can help streamline kitchen flow. And often, it can be the focal point of the room.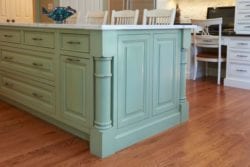 The Backsplash in a Gourmet Kitchen
The walls between countertops and the bottom of the upper cabinets will see lots of splattering during cooking. As a result, this area should be a washable surface, usually tile. Backsplash tile can extend all the way to the ceiling and cover the entire wall — like in a restaurant — for easy cleaning.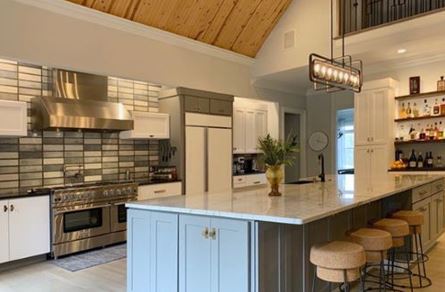 Whatever material is chosen – stainless steel, decorative tin, stone, glass or ceramic tile, or simply a painted wall – it can tie together the countertops, cabinetry and floor.
Other Things Often Requested in a Gourmet Kitchen
Hanging pots and pans rack
Built-in Coffee Maker
Clever knife organizers, such as the magnet strips or base cabinet pull-outs
Rubber, large tile or wood floors (easier on the feet)
Conclusion
Any good cook can whip up a meal with basic tools, but a gourmet kitchen is designed for the cook who wants his or her kitchen organized and efficient. As I've outlined in this article, a gourmet cook's kitchen is equipped with professional appliances, durable and easy-to-clean surfaces and lots of storage for specialty items. The layout will focus on zones for preparing food, cooking meals, cleaning up and serving. The appliances must be all about high performance.
If you're ready to get started on your own version of a gourmet kitchen, give me a call at Craig Allen Designs. Working together, we can determine what your gourmet kitchen will look like.