The Right Kitchen Design Encompasses Far More Than Style – Though It Will Certainly Have Your Style Throughout
We Offer Kitchen and Bath Designs That Are Meticulously Detailed, Hassle-Free, On Budget and Absolutely Customized to Your Complete Satisfaction
When you choose Craig Allen Designs to create your new kitchen design, you will discover that working with Craig provides an experience that extends beyond what your typical kitchen designer or "Big Box" store provides.
Choosing a Kitchen Designer
Choosing a kitchen designer can be difficult and stressful, especially if you've never worked with a designer before. Because a kitchen remodel is a serious investment in both time and money, you will want a talented, experienced kitchen designer, like Craig Allen. He can take the guesswork out of the kitchen renovation project, streamline the process and make it possible for you to get the kitchen design you've always wanted.
Besides being beautiful and efficient, a well-designed kitchen is a significant asset, both while you're living in your home, as well as a big selling point if you decide to put your home on the market.
A kitchen remodel is probably the most complicated project many people will ever take on. It's a serious investment in both finances and time. And a talented, experienced kitchen designer can remove the guesswork, streamline the process and make it possible for you to get the kitchen design you've always wanted.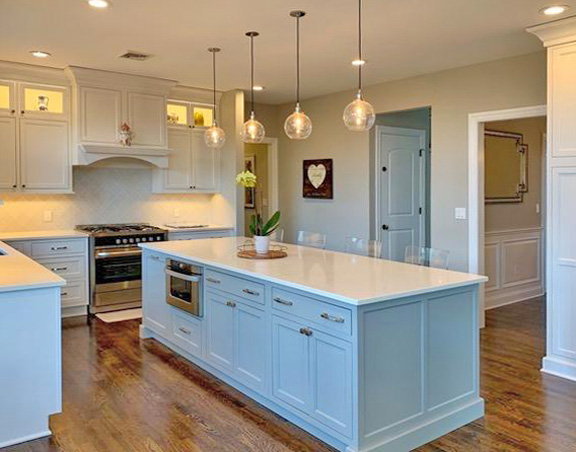 Craig's expertise allows him to focus on ensuring a kitchen works efficiently and makes the most of the room's style, storage and function. He knows what works and what doesn't. He can help you budget wisely, avoid mistakes, make the space beautiful and functional, and introduce you to new products and cabinet interior accessories.
With access to electronic kitchen design software tools and technology and an insider's view of the latest trends in kitchen design, new materials, building codes and technical ins-and-outs, his know-how can save you a lot of time, money and frustration.
The first meeting with Craig will be easy if you have a general idea of the look you want. Browse decorating websites and magazines for photos that show the appliances, cabinet styles and finishes and flooring options you want. Perhaps you're someone who has said to themselves, "I have the perfect kitchen design in my head, but I don't know how to actually see it." Having pictures to show Craig can communicate what you may struggle to put into words.
You will be asked questions to determine your lifestyle, the activities that occur in your kitchen and what problems a kitchen renovation can solve for you and your family. The more completely you can answer Craig's questions, the more accurately he'll be able to design a new room that fits the way you live your life.
When you work with Craig Allen Designs, he will take your ideas and bring them to life via his virtual tour technology. Looking at actual cabinets, flooring, and fixtures in a showroom or in a model home is nice, but the downside is that you can't change colors, swap in a different cabinet design or switch from a vinyl floor to hardwood with the snap of a finger. But with a virtual tour, you can do all of that and more.
What is Your Style?
Do you want your new kitchen to be in the contemporary or modern style, with flat panel doors and little or no ornamentation? You will want to go with frameless cabinetry that has no face frame and a sleek, streamlined look.
Maybe you like a more traditional kitchen style with raised panel doors and drawers? If so, you will want to go with framed cabinets, where the cabinet boxes are built with 1-1/2" wide frames. You see a lot of wood when you look at the cabinets, both inside and out.
At Craig Allen Designs, we promise:
A Rock-Solid, Exact Price Up Front

Expert Ideas For Design, Color, And Material Options

Easy Interaction With Virtual Design So You Can "Tour" The Design Before It's Built
Possibly you're looking for a rustic or farmhouse kitchen design? This design style has become very popular, thanks in part to the TV show "Fixer Upper". It's livable and homey and its appeal is easy to see.
Transitional kitchen design is the #1 most requested style. A transitional kitchen combines the best of Traditional style with modern elements, and the result is a look that is uniquely your own. A transitional kitchen will definitely include an island, if space allows. Craig Allen is an expert when it comes to kitchen island designs.
Craig will review all style options available to you. Unlike some designers who can be pushy and try to fit you into a certain style because it's what they like, Craig is patient and will answer all your questions and work with you to ensure you get what you really want.
Kitchen Cabinets
When considering a kitchen or bath remodel project, the cabinetry is easily the most expensive item. That's why it's important that you know what to look for when making your selections to avoid disappointment after the cabinets are installed.
You want cabinets with exceptional finish quality, smooth operating doors and drawers, and crafted using quality construction methods so they're built to last.
You can trust Craig to help you select the best cabinets for your design preferences and budget. He understands that it can be difficult to tell the difference between quality levels of cabinetry using words alone. The best way to tell the differences is to compare cabinets side-by-side. See the wood characteristics, touch the finishes, and compare cabinet box construction.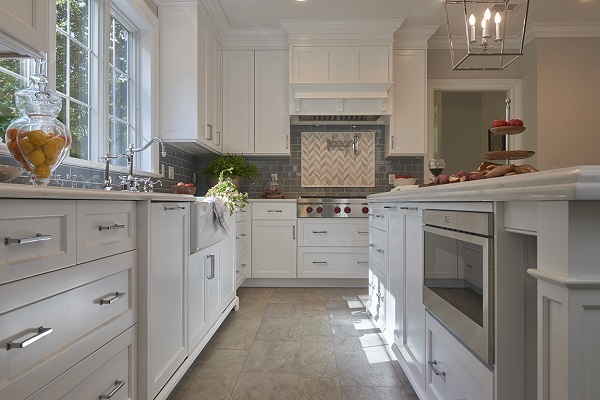 Craig Allen Designs offers you the opportunity to compare. And he goes further by explaining the differences, so you can make the best decision for your kitchen remodel budget and quality expectations.
You may not get all design elements you want, depending on your budget and the cabinet manufacturer. Less expensive cabinets offer fewer color options, and they may not be able to provide the color and finish combination you want to make your kitchen special. Craig only works with the most reputable cabinet manufacturers: firms that deliver design flexibility, the best materials and finishes, and, most importantly, value.
Cabinet Finish
If you're like most homeowners shopping for new kitchen cabinetry, your eyes are drawn first to the cabinet finish. The cabinet finish is its crowning glory, the face it presents to the world. It's the first thing people notice when entering the room, it's what you will be looking at for years to come.
Many people are choosing painted cabinets for their remodeled kitchens because with paint, you can achieve most any look you want – color choices are practically unlimited. If Craig doesn't have the color you have your heart set on, custom color matches are a possibility.
Stained cabinets are always an option, and a combination look, where some cabinets are painted and some finished in stain, is classic.
Craig will help you narrow down your choices to get the look you want. His experience as a kitchen designer has taught him what colors look best and what finishes best suit the way people use their kitchens.
Doors and Drawers
There's more that goes into building doors and drawers than is obvious when you first look at them. What you want to look for is the quality of the wood used. And if you've decided on a painted finish, you want to find out what material is used in the center panel of your chosen door style. You definitely want an MDF center panel. This man-made material minimizes "movement" when wood expands and contracts – which it does naturally in response to seasonal changes – and will help prevent minor cracks in the painted finish at the joints.
Solid wood center panels are fine for stained cabinets because any movement at the joints is not as visible through the stain.
Craig Allen Designs provides samples of doors and drawer fronts, together with the guidance to get you to the ideal door and drawer for your personal taste and style preferences.
If you would like to schedule a consultation for your next kitchen remodeling project, contact us at 201-444-2239 today.