Why You Should Use LED Lighting in the Kitchen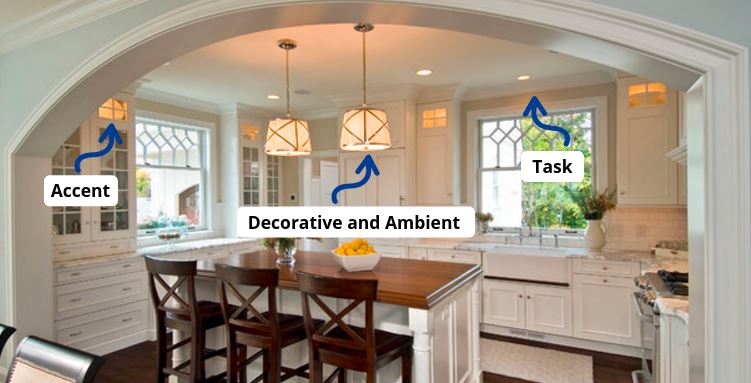 Do you have plans to remodel an existing kitchen? If so, lighting is something you should consider as carefully as the other items that go into making up a new kitchen, such as your appliances, cabinets, flooring type, and color scheme.
Just as a healthy meal must be balanced, so does your remodeled kitchen require the right balance of lighting to accomplish the work you do in that space, from meal prep and cooking to homework and list-making.
Three different types of lights – each with a different function — must be incorporated into your new kitchen, and they are
1. Ambient
2. Task
3. Accent
Kitchen Designers – Including Myself — Recommend LEDs for Ambient, Task and Accent Lighting
My fellow kitchen designers and I recommend using a variety of LED lights to create balanced layers of light. Even in the smallest kitchen, a single light source can't begin to supply all of the light needed to make the space safe and functional.
A good lighting plan starts at the top with ambient lighting – your overhead lights, such as ceiling fixtures or track lighting, chandeliers and pendant lights.
Next, we move on to figuring out the task lighting, such as under cabinet strip lights or pucks, that get placed over each work zone to give extra light without causing shadows.
Finally, we'll add accent lights to call attention to your new kitchen's architectural details and decorative items.
LEDs for Ambient Lights
Ambient lighting is the main source of light in your kitchen. Whether it's to add to light, or to fill in because there's not enough light, a combination of different styles of LED lights can be used. When it comes to ambient lighting, you want it to evenly spread out across the room.
Recessed ceiling lights are usually the primary source of ambient lighting. Traditionally, in the past, halogen or other incandescent sources have been used. Now, those old-fashioned fixtures have been replaced with long-lasting, energy-saving LEDs.
LEDs for Task Lights
While ambient lighting is the main source of light in the kitchen, it often leaves shadows under cabinets and in corners, making it hard to read recipes or ice cupcakes. Task lighting will properly light up your work areas so you can safely prepare meals. Think about the tools people typically work with in a kitchen – knives, graters, heat and flames. Naturally you want to be able to see what you're doing! With the help of undercabinet task lighting, work surfaces are lit so you can work safely.
Undercabinet lighting is an ideal application for LED lights. Unlike halogens used in the past, LEDs stay cool so your hands don't get hot while you're working below them. Or burned, if you accidently touch them.
Common undercabinet lighting options include LED strip lights and LED puck lights. LED strip lights are used under the cabinet to fully light up counter spaces, while puck lights are directional and create a pool of light, perfect for places where task lighting is needed, such as over a cutting board or prep station.
LEDs for Accent Lights
Any well-designed kitchen will include accent lights, such as toe kick lights, interior cabinet lights and any other place where you want to accentuate your favorite things.
If you're showing off your serving pieces or collectibles in glass-front cabinets, LED interior lights are perfect. Rope lighting can be installed behind face frames of the cabinet or recessed puck lights can be installed in cabinet tops so the light shines down from top to bottom. And you don't have to worry about them getting too hot inside the cabinet – they stay cool.
There's no limit to the ways LED lights can be used as accent lights. LEDs, like Hafele's Loox system, can be used as task lighting inside drawers so they light up when they're pulled open, in deep base cabinets so you can see what's in there, and in dark corners or any other areas that need more light.
Rope lights or LED tape can be used to light cabinet toe kicks. Lighted toe kicks can be both practical and good-looking. They can serve as a type of path light for rooms where extra safety measures are needed. You can install motion sensors so the lights turn on when someone enters the room, a nice safety feature.
Glass countertops can be lit from below by LED lights for a dramatic effect. And LEDs can be used in a tray ceiling to highlight this architectural feature.
Reasons to Use LEDs
There are a few reasons why LED lighting is perfect for use in your new kitchen. Each reason helps to make your kitchen more enjoyable and safer and helps to improve the overall look of your kitchen.
Brightness = Safety
The first reason to use LEDS is that traditional lighting is not as bright as LED light. In the kitchen where you are working with knives and hot burners, it is much better to have plenty of light to make sure that you don't injure yourself.
The bright, clean light that LEDs create makes it much easier to use your kitchen. With low light halogen or incandescent bulbs, it is difficult to see what you are doing unless you are directly under or next to the light.
Low Profile
Another benefit of LED lights that makes them perfect for the kitchen is that they can be low profile. In under cabinet areas, you already have limited space so adding a traditional bulb fixture can take up valuable space. LED strip lights or rope lights tuck up under the cabinet frame.
Energy Efficient
A higher quality of light isn't the only thing that makes LED lighting a smart choice for your kitchen. Their greater energy efficiency is another powerful reason you may want to go with LED lights.
LEDs used in residential applications that have earned the ENERGY STAR designation consume at least 75 percent less energy compared to incandescent lights.
Longer Useful Life
LEDs last for years. If you don't look forward to mounting a ladder to change the overhead lights in your kitchen, you should go with LED lights because they have a noticeably longer working life. Compared to incandescent lights, LEDS can last as much as 25 times longer.
While incandescent bulbs typically last only around 1,000 hours – barely a year with several hours of use each day – LED lighting is commonly rated to last 50,000 hours or more, which can translate into decades at the same rate of use.
Conclusion
For the most effective, efficient and attractive kitchen lighting, I recommend that you figure out where you want your task lighting – this will give you light where you really need it. Then we will add accent lighting for visual interest in glass front cabinets, in moldings – anywhere, really where you want to call attention to something. Add finally, we'll lay out the ambient light, to fill in the space where light is needed to light the entire room.
When all three layers are combined using LED light fixtures you really like, you've got a recipe for kitchen lighting that will make your kitchen bright.
Craig Allen Designs: The Right Choice for Your Project
Whether you want a new kitchen design or you're planning a kitchen remodeling project, Craig Allen Designs is the right choice for your project. Craig Allen Designs has the proven experience and network of contractors to bring your vision to life with all the desirable design elements and lighting that will stand the test of time.
To work with a hands-on designer who embodies the mastery to create a kitchen you'll enjoy for years to come, contact Craig Allen Designs in Midland Park, NJ to schedule a consultation today.