Creative Storage Solutions
The kitchen, as home to appliances, cookware and every specialty gadget under the sun, has always been difficult to organize. All the blenders, mixers and food processors and many cans of food, boxes of cereal and bags of flour and sugar easily fill up every available space.
Kitchen designers — including myself — have been inventing creative storage solutions to help solve kitchen organizational dilemmas, from storing pots and pans to neatly putting together a messy walk-in pantry.
1. Pull-Out Pantry. More than any other storage solution, homeowners remodeling their kitchens dream of a perfectly organized pantry. The version shown here slides out so that items in the back are always easily accessible. People love pantries because they keep everything all in one place. You can see it all, so you don't end up buying something you already have.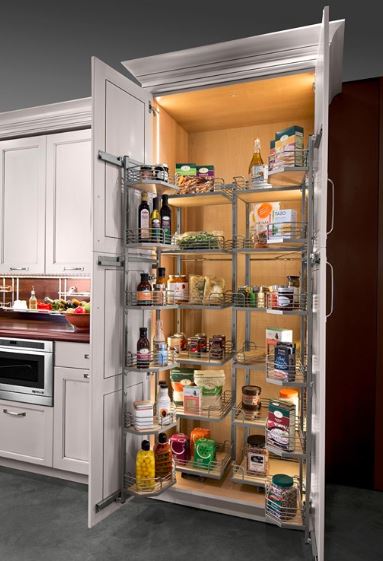 ---
2. Corner Storage. Clever corner storage is a wonderful solution for awkward corners. Gone are the days when you have to get down on your hands and knees with a flashlight looking for a missing Christmas tin. Everything is accessible and in its proper place. This pull-out, swing-out version comes with beautiful walnut shelves.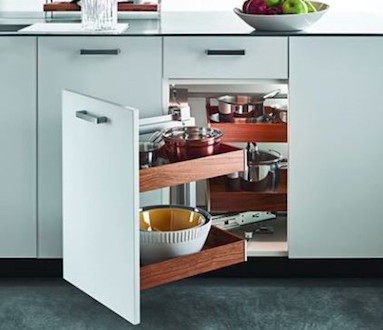 ---
3. Pots, Pans & Lids Storage. How's this for useful? A well-designed base cabinet pull-out stores pots and pans on the bottom level, while the matching lids are on the top tier. Everything is conveniently organized and at the ready in one place.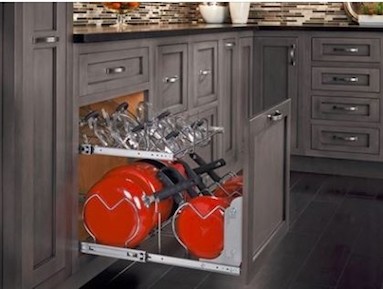 ---
4. Undersink Caddy. The deep cabinet under the sink can seem impossible to organize, and things get lost all the time. Here's two versions of supply caddies that hold all cleaning supplies, pull out from under the sink and are easily lifted out so you can take your cleaning supplies with you. Could you see one of these under your bathroom vanity?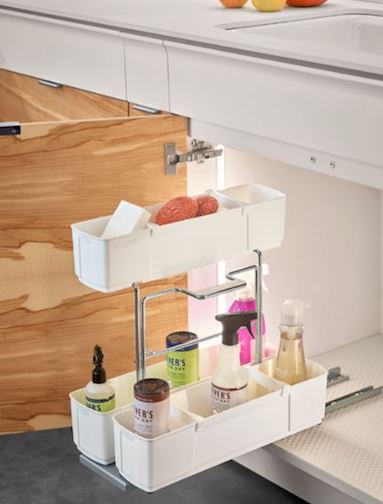 ---
5. Pull-out Trash Cans. Every one of my kitchens includes a pull-out trash can – No free standing trash cans in a Craig Allen Designs kitchen. The double bin configuration makes recycling easy; the one shown here includes a compost bin. And for smaller spaces, singles are available. The latest innovation on this popular favorite is the hands-free version. The touch of a foot or a knee opens the cabinet and brings out the trash bins.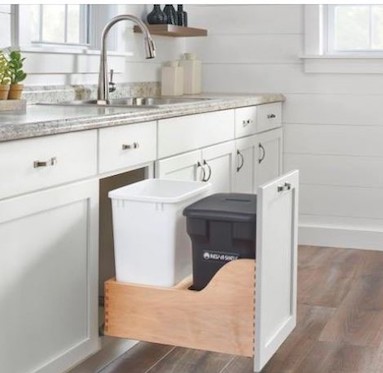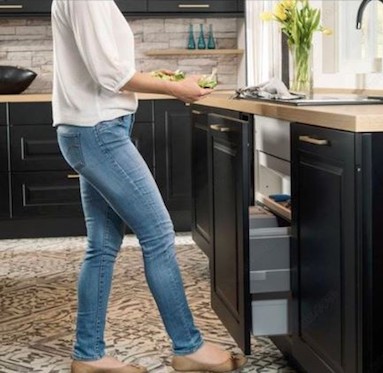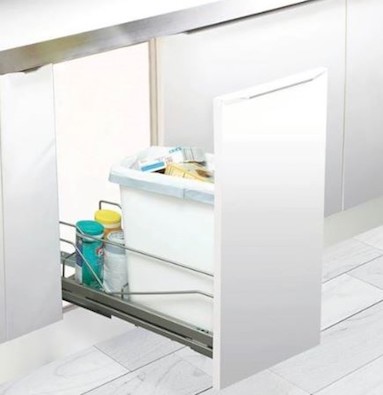 ---
6. Cookie Sheet Organizers. These handy organizers are perfect for muffin tins, broiler pans, cooling racks, cookie sheets, serving trays and all sizes of cutting boards. They're available for installation in a cabinet or in a pull-out configuration.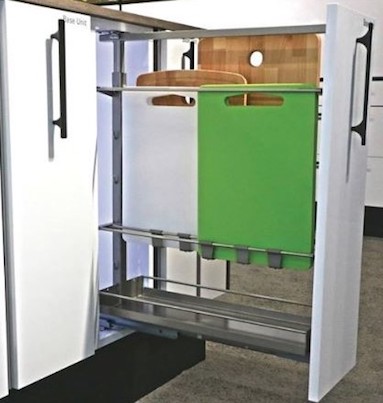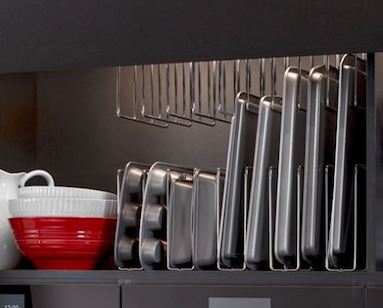 ---
7. Spice Storage. Organizing the many spices that accumulate is always a challenge. A one-size-fits-all solution does not work for a serious cook's spice collection. Luckily, the manufacturers who make storage solutions are up to the task. There are drawer inserts or cabinet rack designs. So practical.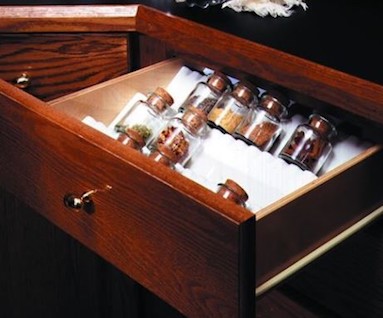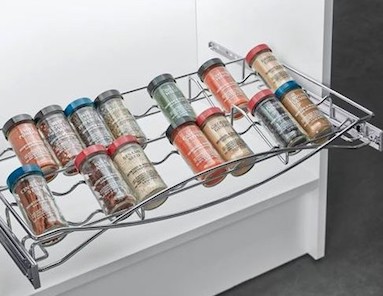 ---
8. Wine Storage. No collection of storage solutions can be complete without including wine storage. The storage experts at Hafele have several different options — vertical and horizontal.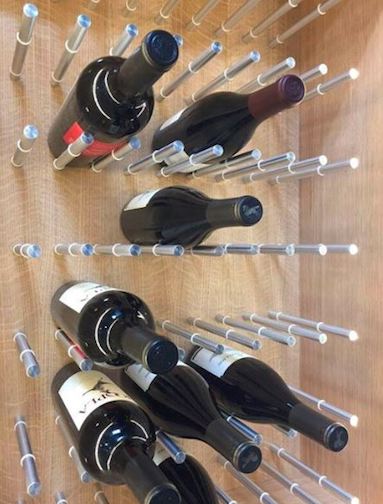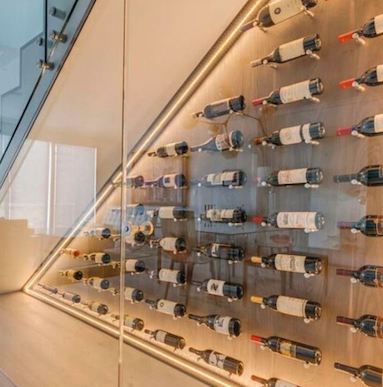 ---
9. Deep Drawer Storage. With the popularity of open shelves and the demise of wall cabinets, people need a place to store their plates and bowls. The deep drawer storage system provides the perfect solution. You can use movable pegs to hold plates and glasses in place; the other option is using the provided containers.
The drawer shown below isn't for dishes, but the containers in the drawer keep all tableware and utensils organized. And these containers are walnut, making them beautiful as well as useful.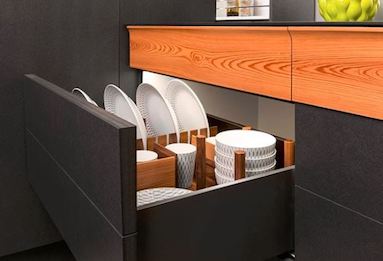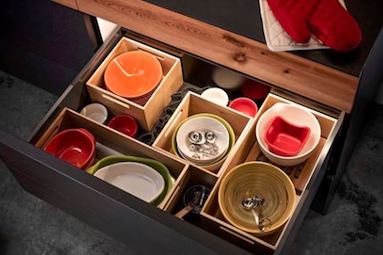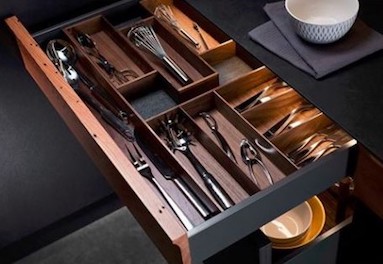 ---
10. Sponge Storage. This one is a perennial favorite and has been around for years. There's a good reason! A tip-out drawer under the sink holds sponges and brushes and keeps them out of sight, but close at hand when needed. Plastic or stainless steel inserts are available.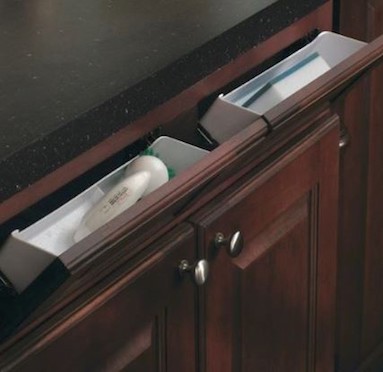 ---
11. Pull-Out Table. Think about how often this pull-out table would come in handy. It can be used for extra seating or extra prep space. And when it's stored away, it looks like one of the closed drawers.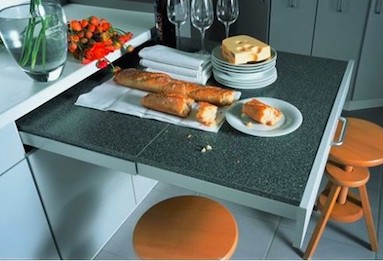 ---
12. Slide-out Baskets. Wicker baskets on solid wood sliders look nice and are practical for storing potatoes or other produce that doesn't need refrigeration. Or any other kitchen items that need storage.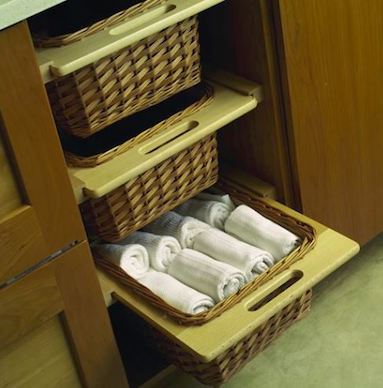 ---
13. In-Drawer Charger. This one is for people who are anti-clutter. Hide your devices inside a drawer while they're charging. The charging system can be for electrical or USB charging. And it's not for kitchens only.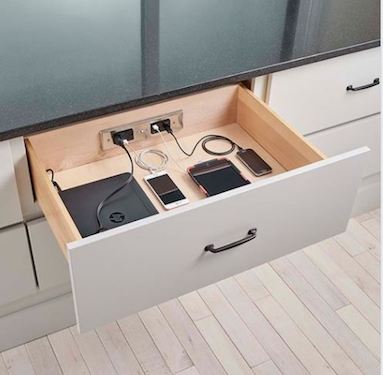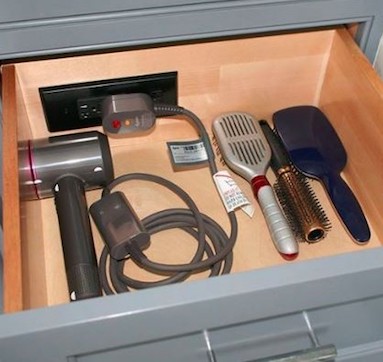 ---
Conclusion. What I've included here is only a sample of the many storage solutions that are available to you as you consider a new kitchen. Many of the items shown can also be built in by the cabinet manufacturer as part of your new cabinets, if you prefer. The options are practically unlimited, and that's why working with a kitchen designer when planning out your new kitchen makes sense and guarantees great results. I'll ask you about how you use your kitchen, what you need to find storage for, how many people are in your family, and other questions that will give me a starting place for your new dream kitchen.
If you're ready to get to work on the new kitchen remodel project you're been thinking about, call me at Craig Allen Designs 201-444-2239. Or visit my website Craig Allen Designs