Complete Your New Kitchen with an Island
Practically every customer I work with who's considering a new kitchen or kitchen remodel asks about an island. In fact, islands are by far the most requested feature. Today's homeowners believe that no kitchen design is complete without an island at its center.
I have some terrific kitchen island ideas for customers who want to make a style statement and personalize their new space.
Add Some Color
My first suggestion is to add color to the new kitchen with both the countertop and cabinet finish in the island. Many clients like to have a finish color that's different from the other cabinets in the room. The same goes for the island countertop. It can be different from what's used on the perimeter countertops for an interesting color pairing. Or contrast, depending on what is selected.
It's easy to add to the new kitchen's style by incorporating decorative legs, carved posts, furniture bases, and (occasionally) corbels. Decorative design elements can make a custom kitchen island look like furniture.
Create Work and Storage Space
Beyond looking good, islands create practical work space. When a kitchen includes an island, the cook gets added functional counter space to work on. If it's large enough, an island can have the primary or an extra prep sink.
Custom islands add lots of useable storage space. Utensil and silverware drawers with built-in dividers, pull-out trash and recycling bins and deep drawers are just some of the many options available.
Open shelves on island ends provide space for cookbooks and personal collections. And water bottles.
The island can serve as a barrier that separates the food prep area from family and guests. Kids can do their homework while the cook watches, yet the counter keeps them away from knives and hot pots and pans.
During a party, guests can congregate at the island while separating them from the people who are cooking and cleaning up.
Enough Space for an Island?
We just looked at the reasons people want an island, but before it can happen, there are practical considerations. Number one is: Is there enough room for an island?
The NKBA (National Kitchen and Bath Association) states that 42" of clearance for work islands is required. And add another 6" (for a total of 48") when two people work in the kitchen. This gets measured from the furthest protruding item, like base cabinets or stove or fridge.
A typical kitchen has two work aisles or walkways, one on either side of the island. (The NKBA defines a walkway as an area generally not used as work space). The walkway behind a seated diner, or the space needed to edge past sideways, is 36" at a minimum. Customer preference is actually 44".
Another space consideration when designing a custom kitchen island is knee space for a seated diner. It's annoying – and possibly painful — when there's not enough space.
How High?
Most islands are counter height at 36". (To get technical, they're actually 35 3/4"). For a counter at that height, 15" of horizontal knee space is required for comfort. This is measured from the edge of the counter to the cabinet. If the counter is 42" high, not as much horizontal knee space is needed. 12"is all that's required. When customers ask about the correct height for stools for their new island, here's what they need to know:
For a 36" high island, stools should be 24" high
For a 42" high island, stools should be 30" high
When choosing stools for an island, consider the amount of countertop overhang. I always go for 15", the amount needed for most stools to fit properly
There's really no practical reason to reduce countertop overhang. The stools take up space no matter what, whether they're underneath the island or sticking out beyond.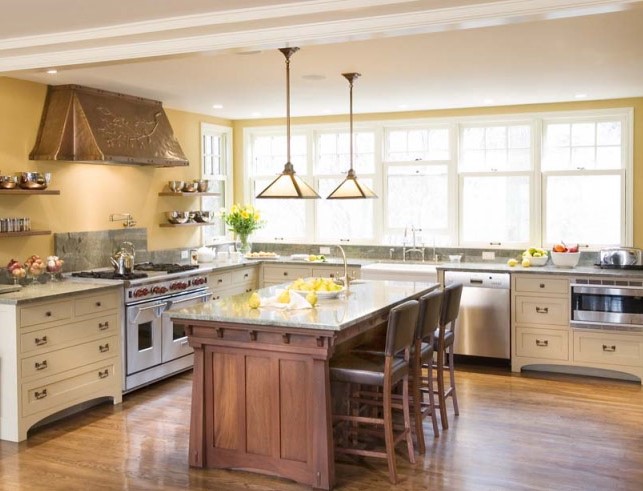 Elbow Room
To calculate the most comfortable elbow room for people sitting at the island, 22" to 24" of width per person should be allowed.
How Wide
I use this ball park equation to figure out custom kitchen island width: take the total length or width of the overall space, then subtract counter / appliance depth and any working / walkways. That gives him the width / depth of island.
A Few Other Considerations
That's not all. Here's a few other considerations:
Will the island cut off access to work areas or appliances? A well designed kitchen will have the right amount of clearance between the island and cabinets and appliances on the opposite walls, so that all doors, drawers, ovens and dishwashers can be opened safely and without bumping into something.
Will it interfere with traffic flow? (This shouldn't be a problem if the numbers are followed.)
If there's not enough space for the island the customer really wants, is it time to take down a wall or add an addition? People do it all the time, and I'm happy to help with the design and logistics.
Conclusion
I always tell my new clients that to avoid disappointment, it's critical to make sure space requirements for a new custom kitchen island are met.
Craig Allen Designs has a proven process for designing custom cabinets for clients who want a traditional look, or a contemporary look or anything in between in their kitchen. Whether you want to remodel your kitchen or simply update it with custom cabinets, we'll create a design that will give you the look and feel you want in your kitchen.
Contact Craig Allen Designs to schedule an in-home consultation today!