Pick The Right Hood For Your Kitchen Remodel
When it comes time for planning your kitchen remodel, you must make many decisions. As your kitchen designer, I like to think of myself as your guide. It's part of my job to make sure you get what you want. Even if you're not sure what that is yet!
And not all your choices will be sexy. There are things that go on behind the scenes that are just as important as your countertop selection and cabinet finish.
One of these is the range hood and how you vent your stove.
Looks? Function? What You Need To Know
As an experienced designer, builder and installer, I can help you get the look you want for your kitchen remodel. And, just as importantly, the functionality you need.
Vent Hoods Are Necessary for Remodeled Kitchen
Vent hoods and exhaust systems are a necessity in any kitchen. A kitchen remodel is the ideal opportunity to get the best for your home.
Cooking has some undesirable by-products: grease, smoke, moisture and smells. And all of them hang in the air without air filtration. Proper ventilation can minimize the effects of the grease and neutralize smells. Without effective ventilation, grease will settle on your beautiful new cabinets and everywhere else in your new kitchen.
Range Hood As Focal Point
Your vent and filtration system may not be glamorous, but you have to have it. On the plus side, it's possible to get a vent hood that looks sensational while doing its dirty work.
From a design point of view, the range hood often serves as the focal point of a kitchen. Whether it stands alone or has cabinets on either side, it adds to the overall vibe of the room. Plus, it makes a statement about the person who chose it. For example, a large pro style hood says there's a serious cook who works in this kitchen!
Different Materials and Styles for Your Kitchen Remodel
There's wood and metal to choose from. And for the shape, there's boxy, curved, contemporary, even some you could call futuristic.

Wood Hoods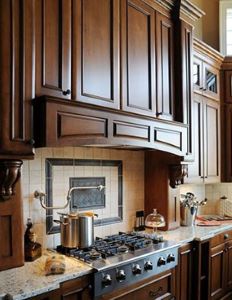 Wood hoods tend to fall into the traditional category. With curves, corbels, and other decorative accents, they look like a furniture piece.
Wood hoods can be quite expensive, ranging in price from $1600 to many thousands. And that doesn't include the cost of the insert, liner and blower, the essential guts of the exhaust system.
It's possible to get the wood hood finished to match the cabinet finish. Or you can choose a contrasting finish to mix things up. The choice is yours.
Hearth Style Hoods
Hearth style hoods are another type of wood hood. They are sometimes called cooking enclosures, because the sides extend down to the countertop and enclose the stove.
Whether finished with stain or paint, hearth style hoods make a strong style statement. They typically include decorative onlays, corbels and moldings. See the one in the photo (below). The hearth hood creates a nice frame for tile backsplashes.
Although today's trends are more contemporary with minimal, or no, embellishment, many clients love the look of the hearth style enclosure. They ask me if they can make modifications to create a more contemporary look. In the photo below, the design is adapted for a more modern or transitional look. It works well with the flat panel doors and drawers.
Another nice feature of the hearth style hood is that it can have pull-out storage in the "legs". (The legs are the sides of this type of hood.)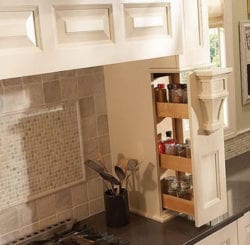 I like wood spice pull-outs, as shown, but metal is also available for more contemporary kitchens.
Mantel Hoods
Mantel hoods are also wood, and they are built by the cabinet manufacturer as part of the cabinet order. This hood style has a shelf (the mantel) and is the "box" style with panels and a shaped bottom rail. Mantel hoods provide a great place to display art or collectibles. They can be as simple or ornate as you want, as can be seen in photos below.
A mantel hood creates a uniform, pulled-together look for the kitchen. In the photo above, you can see the hood is part of the run of wall cabinets.
Clients who like to shake things up can have their hood finished in a different color to create contrast.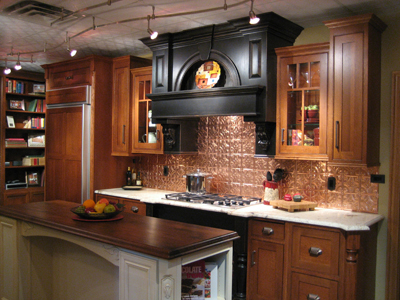 Metal Hoods
Depending on the design, a metal hood can cost more than a wood hood. But for the homeowners who want something unusual, they can get it with a metal hood.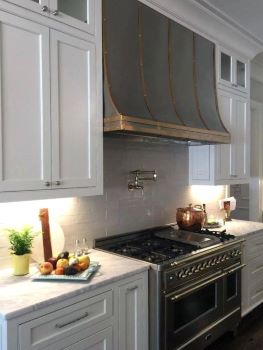 The most popular metal choices are copper and stainless, but there's also zinc and enamel, if you want something truly unique. But be warned, unique equals pricey in the custom kitchen world.
Chimney Hoods
Chimney hoods can be metal or wood. But for today's homeowners who want a transitional look in their new kitchen, metal is the way to go. Chimney hoods are versatile, and they will fit in with any kitchen design. A stainless chimney hood is especially nice with stainless appliances in a transitional kitchen.
The hood in the photo below shows a wall mounted chimney hood that looks like it was made to go on the subway-tiled wall next to the floating shelves.
The copper chimney hood shown below has a bell-shaped "skirt" that makes it more traditional.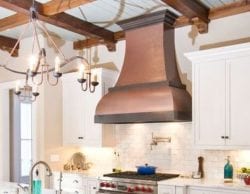 No matter what your taste or style preferences may be, there's a chimney hood that will work in your new kitchen.
Downdraft Venting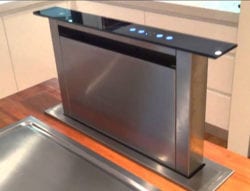 I have a word of warning for clients who ask about downdraft venting.
And that word is DON'T.
They should be used only as a last resort.
They are inefficient because they're not close enough to the cooking source, and they don't always capture grease and odors in the air.
Budget-Friendly Options for Your Kitchen Remodel
I know not everyone can afford a custom hood. Here are my recommendations for budget-friendly kitchen remodel.
You can get a Professional style hood without a chimney or with one as an add-on. This type of hood can be mounted to the bottom of a cabinet or mounted to the wall. As the photo below left shows, they're available in stainless to match stainless appliances.
Low-profile under-cabinet hoods are also a less expensive option. Unfortunately, they're noisy and only marginally effective at pulling grease and odors out of the room. A low-profile under-cabinet hood is shown in the center photo below.
Then there's microwave hoods, the least expensive and also the least efficient option. (Photo below on right) If you're getting a new kitchen, you probably want to replace one of these. Builders love them because they're cheap and easy to install.
Microwave Hoods are not ideal because there's no canopy to capture grease and odors. The canopy is where air is captured under the blower before the blower pulls it out. Plus, the location of the microwave above the stove is not very safe. Shorter people can't reach them, and hot liquids can easily spill. This has nothing to do with how it works as a vent hood, but has everything to do with safety.

Craig's List of Vent Hood Functionality Facts and Considerations
I've had clients who struggle with decisions regarding vent hoods, so I've developed a list to help with decision making.
Vent hoods remove:
"Bad air", like smoke that irritates lungs and eyes.
Odors
Noxious gasses, like carbon monoxide and those given off by gas stoves.
Condensation (steam) created behind stove.
Grease. A typical family creates 2-1/2 gallons per year! Think of all that grease on your beautiful new cabinets.
Vent hood sizing dimensions are important:
Taller isbetterbecausethechamberunderneaththehoodwillbe
The hood must be at least the width of the The preferred width is an additional 3" to 6" so it captures more smoke and odors
Note: As a designer, I say a hood slightly wider than the range just looks better and more balanced. Unless the range is 42" or wider, then the extended hood becomes overwhelming. However, this depends on the size of the room. Some rooms can handle the larger size. When we work on the layout for your kitchen remodel, sizing and dimensions of the hood will be taken into consideration.
Where the vent hood gets mounted depends on whether the hood is non-combustible (metal) or combustible (wood). For maximum efficiency, closer to source is better. A metal hood should be 27" to 32" from the burners. The IRC (International Residential Code) requires that wood hoods be 30" to 36" away from burners. With many manufacturers, 36" is the minimum.
I always consult with the vent hood manufacturer and familiarize myself with local building codes and inspectors.
I also take into consideration the cook's height. A tall cook is not going to be happy hitting his/her head on the hood while cooking. The height should be increased to accommodate the cook's height.
Now For Some Numbers
Warning: Math ahead. Don't worry, I'll walk you through it. I believe my customers should have all the facts to make informed decisions.
Definitions first:
CFM is cubic feet of air moved per minute.
BTU is British Thermal unit or how much energy it takes to raise one pound of water up one degree F.
To figure out how many CFM's your new vent hood should have, the formula is
100 CFM/1000 BTU
Add up the BTU's of each burner of your stove and divide by 100. A 50,000 BTU range needs 500 CFM minimum.
Don't worry – I will figure this out for you, as will the vent hood manufacturers. But you should know why I make certain product recommendations.
Rules About Venting
Always vent outside.
Don't use flexible duct with ribs for venting
Use the largest possible diameter for the duct
Have as few turns as possible in the duct
Have the shortest run possible of the duct
These rules related to venting and appropriate duct work should be part of your kitchen design and will get you the most efficient and quiet system.
I'll be with you to make sure you get the right product for your new kitchen.
About the Blower
The blower doesn't "suck out" contaminates. A blower draws in smoke, grease and smells, yes, but mostly it sends them out. Think of it this way – the blower's job isn't to suck in; it's to blow out.
There are three different ways to mount the blower.
Inside mount. Most blowers are mounted inside the hood. They get bolted to the liner in the canopy. The canopy is where air is captured under the blower before the blower pulls it out.
Inline mount. Some blowers get mounted inline, where the blower is placed between the hood and the exhaust. This location helps to keeps sound levels down. And the blower isn't right at your head when you're standing at the stove.
Outside or remote mount. Some blowers can be mounted outside in the roof. This is called a remote mount. Remote mount blowers reduce noise, but if any repairs are required, access is difficult and will be costly. I recommend remote mount only for high CFM units.
There You Have It
More goes into selecting a hood than simply the material, finish and shape. How it works at removing grease, smoke and odors from your room must also be considered.
What I've learned over the years as designer, builder, remodeler and installer went into this brief explanation of the various hood styles and how venting systems work. I will help you get the one best suited to your style preferences, kitchen size, and the way you cook. Or don't cook – no judgment.
My goal is to make sure you have the facts you need to make an informed decision when planning for your kitchen remodel. I hope after reading this article, you can feel more confident when you making your selection.