The Best Kitchen Layout for your New Kitchen
When we begin working together to plan the design of your new kitchen, we'll naturally discuss the kitchen layout. We'll optimize your kitchen space however you want, of course, but when deciding on the layout, a few factors should be considered:
Do you and your family need a lot of storage space?
How will you and your family use the new kitchen?
What appliances will you want to fit in?
And the big one…
How much is in your budget?
There are a number of different kitchen layouts. They are:
One-wall
Galley
L-shaped
U-shaped or Horseshoe
Island
G-shaped or Peninsula
Before making a decision, let's take a look at each one, starting with the One-wall layout.
The One-Wall Kitchen Layout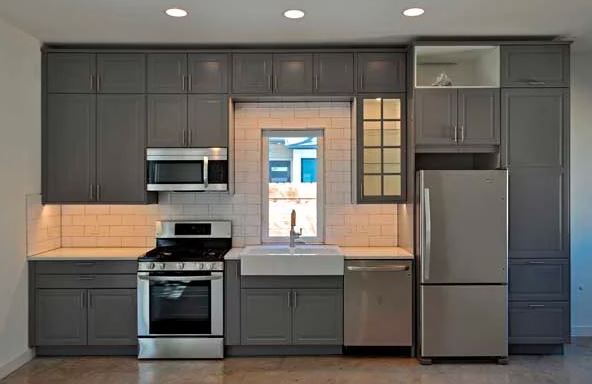 The One-wall kitchen was originally called the "Pullman kitchen" (like the railroad car) because cabinets and appliances are installed on – you guessed it – one wall. This type of kitchen is usually found in studio apartments or lofts because it saves space. Many One-wall kitchens include an island, which creates more of a Galley style with a walk-through walkway. (More on the Galley kitchen next.)
It's simple and easy to design your kitchen along one wall only. Since there are only two dimensions to plan out, you won't need any of my D3 design renderings!
With One-wall kitchen designs, all the main work areas and appliances are along the one wall. This includes the refrigerator, cooktop, sink and stove, as well as the main countertop with space for a microwave oven, coffee maker and other small appliances.
A single wall kitchen doesn't have a "work triangle." So, cooks have to move in a straight line up and down the work area. And depending on how long the wall is, the distance between appliances can mean lots of walking for the cook.
This layout is the most inexpensive of the ones we'll look at in this article:
It's economical because there are no corner cabinets. Fewer cabinets = less cost.
Installation is simple since cabinets are in a straight line. Installation is the second most expensive line item in your kitchen budget, after the cabinets.
Single wall kitchens are ideal for places where you want to keep cooking activities in one area of a shared space, like in a basement game room.
The Galley Kitchen Layout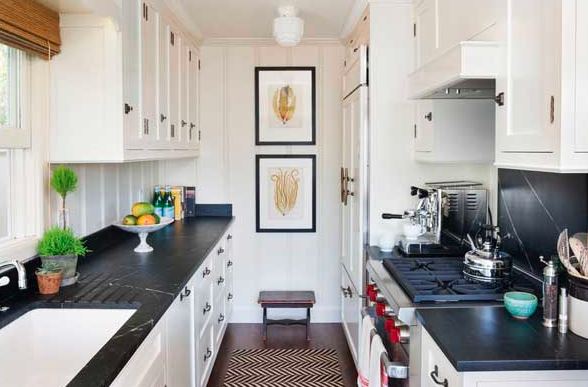 The word "galley" means "kitchen" in sailor talk, and this type of design is always long and narrow, as if it were in a boat.
In the Galley layout, you have two parallel countertops with a walkway in between them. The workstations face each other on the parallel walls.
Much like the One-Wall kitchen layout, the Galley kitchen is ideal for small-ish spaces and/or for kitchens where only one person cooks. The optimal galley layout is narrow enough to let the cook reach both sides of the work space when he or she is prepping or cooking or cleaning up. When there's only one cook, it's easy to quickly move up and down the central walkway.
The Galley kitchen layout will save you money for several reasons:
Installing a straight line of cabinets is always cheaper than installing corner cabinets. There's less trim and less that can go wrong.
With this layout, most of the plumbing and electrical wiring is on the same wall, which keeps the job simple.
The L-Shaped Kitchen Layout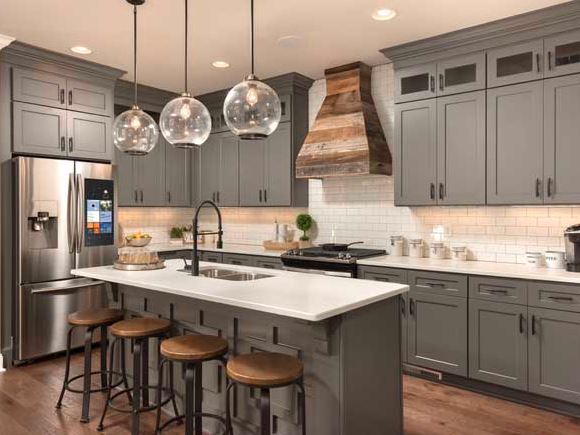 The L-shaped kitchen layout consists of countertops on two adjoining, perpendicular walls that form an L. The length of the two walls don't need to be equal, and the "legs" of the L can be as long as you want. I recommend keeping them less than 12 to 15 feet. More than that and your kitchen looks unbalanced.
An L-shaped kitchen creates a natural work triangle that gives you (if you're the cook) maximum efficiency with minimal movement. You'll be able to reach easily between each point of your work triangle. Better reach means less work for the cook.
Houzz.com reports that an L-shaped layout is the most popular layout chosen by homeowners who are changing the layout of their kitchen as part of a kitchen remodeling project, according to their Houzz 2020 Kitchen Trends Study.
Why is the L-shape so popular?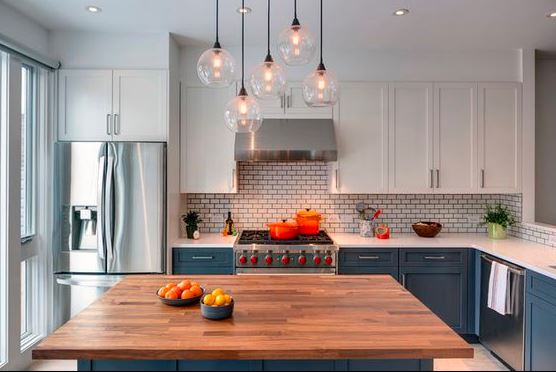 Unlike the Galley kitchen, people who aren't cooking don't have to walk through the space. And there is room for more than one cook with this layout. An L-shape offers plenty of work space along the legs of the L.
You'll be able to take advantage of the corner space where two cabinets meet. Cabinet manufacturers offer a wide range of built-in accessories for corner cabinet storage. No more "dead space". In one of my articles "16 Must-Haves for Your New Kitchen" and another "Cabinet Built-In Accessories" I highlighted some of my favorites.
If your home has an open concept floor plan, this layout is ideal because we can make it open up into the great room or the dining room.
The U-Shaped or Horseshoe Kitchen Layout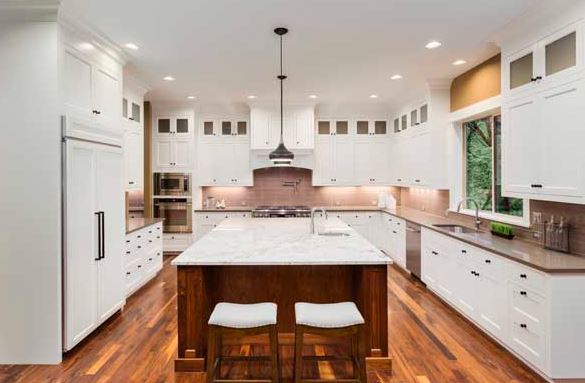 A U-shaped or Horseshoe layout is the second most popular layout chosen by homeowners who are remodeling their kitchens, according to the Houzz 2020 Kitchen Trends Study. The greatest advantage of a "U" is its versatility. No matter how large or small a space may be, there are U shaped kitchen layouts that will fit.
In the U-shaped kitchen design, there are three walls of continuous countertops and appliances, and these walls surround the cook on all three sides.
For the person who likes to spend time in the kitchen making meals and baking, this layout is perfect. I also recommend it for the homeowner who wants her kitchen to be the space where everyone in the family can get together. Because one side of this kitchen layout is open, it naturally connects to the rest of the home.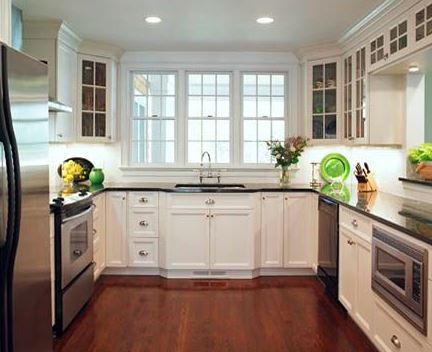 If you want, cooking, prep and clean-up can be divided into separate areas, and you will still have lots of storage. And then there's the space in the middle to include an island, if you want one.
The G-Shaped or Peninsula Kitchen Layout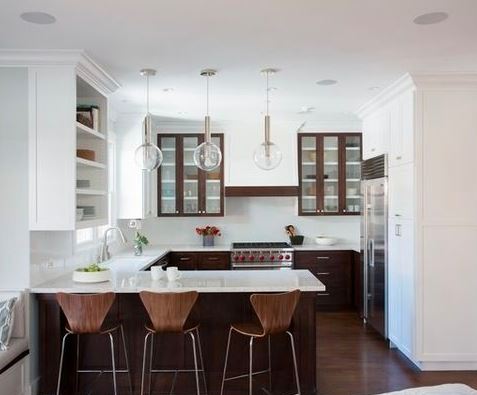 A G-shaped or Peninsula kitchen layout is essentially nothing more complicated than adding a connected, shortened version of an island to an existing run of cabinets. A peninsula offers some of the benefits of an island but can be fitted into a new kitchen that doesn't have the square footage for a "real" island.
The G-shaped kitchen is like the "U" types because both have counters and appliances along three walls. What makes it different is that the G-shaped layout features a countertop tail (like a capital letter G) that juts out of the side. You get more counter space without interfering with traffic flow.
Families can use the extra countertop for breakfast or lunch or after school snacks or for extra work space or for other projects. The peninsula comes in handy for bars and buffets, holiday entertaining or large dinners.
Most G-shaped kitchen layouts work best in mid-size or larger spaces, because small kitchens just don't have enough clearance to move easily around the tail of the "G." It's also ideal for homeowners who really want an island but don't have the space – or clearance — to build one in the middle of the room.
In many kitchens that have this layout, the peninsula acts like a room divider that separates the kitchen from a dining or living room area.
The Kitchen Layout with an Island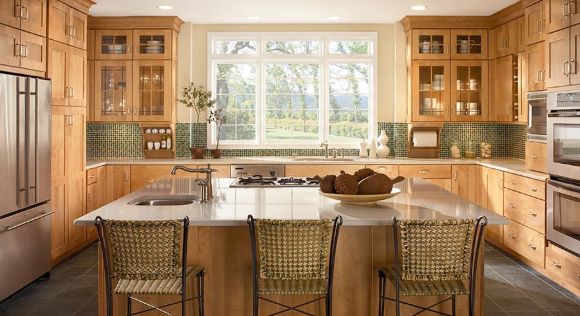 Island kitchens are very popular for many reasons. An island
Provides lots of design options for kitchen remodels
Adds to the kitchen layouts we mentioned above
Creates extra storage space. After all, an island is made by combining base cabinets. And what are base cabinets but boxes to store you stuff in?
Offers additional work/prep/landing space
Can include a sink, built-in microwave, cooktop, trash pull-out, refrigerator drawer, wine fridge, dishwasher drawers – an island is a real workhorse
Creates space for seating or casual dining when designed with a countertop overhang
Significantly adds to your kitchen's usefulness
Improves your home's value, if you chose to sell. According to the National Association of Home Builders, 80 percent of home buyers consider an island desirable or even essential.
Wow – what's not to like? Plus, they are exceptionally good looking and can act as a focal point in the middle of your new kitchen.
You can have the island cabinets finished in the same color as your other cabinets. Or you can use stain on the island and paint on the perimeter cabinets. Or vice versa. And the same goes for the countertop on your island. Specify a different countertop material for your island than what is installed on the other countertops in the room. Lots of choices!
Unfortunately, an island isn't right for every new kitchen. The No. 1 misperception about islands is that every kitchen should have one.
We will have to consider your space to make sure you have enough clearance on all sides of the island. The reality is, many kitchens simply don't have enough clearance to include one. As your kitchen designer, we will work together to get you an island if you have the space for one.
Conclusion
When we have our first meeting, I'll review the various kitchen layout options with you to make sure we're using your new space efficiently. We'll create a design and layout that will give you the look and feel you want in your kitchen.
Contact Craig Allen Designs to schedule an in-home consultation today!