Make the Most of Your Kitchen Space
Great memories (and meals) are created in the kitchen. Here are several tips for how to make the most of your kitchen space.
Sink Solutions
Choosing the right sink can have a big impact on how you use your kitchen.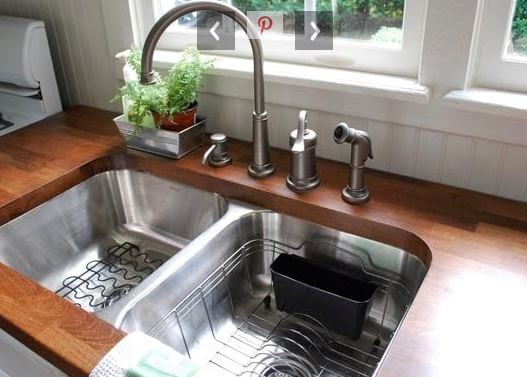 An undermount sink will help to maximize your countertop space. Its flat draining area can be used as a second surface for placing dirty dishes. Or it can serve as a staging area for produce that needs washed.
A single bowl sink is a space-saving option that can be considered as part of a kitchen remodel.
And farmhouse, or apron front, sinks are extremely popular. Often made of fireclay and cast iron, they can also be made from many other materials, such as copper, zinc and stainless steel, among others. Apron front sinks are charming and utilitarian.
Extend Wall Cabinets to Take Advantage of the Space
One of the best ways to optimize kitchen space is to extend your kitchen cabinets all the way to the ceiling.
Gaining these valuable extra inches typically requires choosing custom cabinetry, since the cabinet sizing must be exact. However, there's a chance you and your designer can find a semi-custom cabinet solution.
Either way, you'll love having the extra space, and the fact that there are no cabinet tops to dust.
Consider Kitchen Cabinet Door Hardware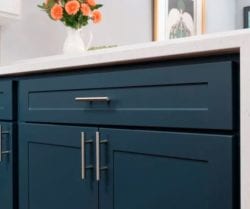 During a kitchen remodel, most people view kitchen cabinet door hardware from purely aesthetic point of view.
However, opting for slim bar pull cabinet handles installed on streamlined, contemporary-styled cabinets conveys a sense of openness.
Another option is cabinets with inset finger pulls that follow the line of the cabinet doors. You'll worry less about snagging your clothes on a more pronounced handle.
Drawers Instead of Doors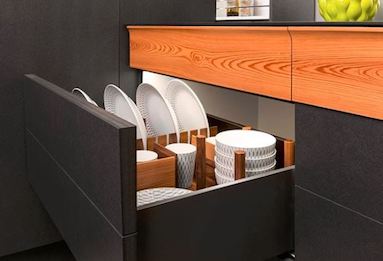 This suggestion may seem like a radical step, especially for homeowners who prefer a more traditional kitchen design.
Switching from kitchen cabinets with doors to cabinets with deep drawers is an excellent way to maximize usable kitchen space after a kitchen redesign.
The idea here is that traditional cabinets promote rummaging, which can lead to your kitchen surfaces getting cluttered while you take things out, put things in, and try to make space for ever more stuff.
On the other hand, drawers offer easy access to every item you need, and they convey a feeling of modernity and organization. Also, three and four drawer cabinets are similarly priced to a base cabinet with roll-out shelves
Downsize Your Appliances
Bigger isn't always better when the subject is kitchen appliances. There are plenty of compact options available for all manner of appliances, all of which will occupy less countertop and storage space.
Fisher and Paykel has a nicely designed French Door refrigerator that fits in a 32" wide opening.
Add a Bench Seat
Whether your kitchen is large or small, adding a bench seat when remodeling your kitchen makes good sense.
The ideal position is under windows for enjoying the view or in a corner. A bench seat provides the obvious benefits of extra seating and additional storage space. Beneath the bench seat is the perfect place for storing large pots and pans. Other large or seasonal items can easily be stored under the bench seat.
Consider a Breakfast Bar
A breakfast bar is a savvy addition to any kitchen, especially if you lack space for a kitchen table. And since the breakfast bar is essentially a countertop extension, your kitchen maintains an open feel.
Get More From Your Walls
Rods, shelving, and pegboards mounted to kitchen walls offer great storage opportunities. You can hang large utensils, colanders, small pots and pans — anything with a handle. With these odds and ends out of the way, you'll benefit from decluttered countertops and additional kitchen cabinet space.
Conclusion
When you're ready to remodel your kitchen to make the most of the space you have, you can trust Craig Allen Designs with the project.
We'll create a virtual example of what your home will look like with new hardware so you'll know exactly what to expect before we even get started.
Contact Craig Allen Designs today for professional kitchen redesign and custom bathroom remodeling in New Jersey.