How to Choose Kitchen Cabinet Hardware
Swapping out kitchen cabinet hardware can make an immediate impact in a room. From sleek and modern to classic and ornate, door and drawer hardware pulls together a room's overall design and adds the crowning touch to a newly remodeled kitchen.
The details in a new kitchen, such as the cabinet hardware, make a huge difference in achieving a certain look or style. To understand the impact that hardware can have, it's helpful to look at it as an accessory, like a piece of jewelry that completes an entire outfit. Just like you can dramatically change your appearance by adding a different accessory to your attire, you can do the same by getting new hardware for your drawers and doors.
Changing out hardware is also an ideal way to update or refresh your room's look.
From cabinet knobs and pulls to the interior doors, completing the kitchen's design includes making hardware decisions. The finish on interior doors' hardware should also be considered, especially in today's popular open floor plans. Coordinating interior door hardware with the rest of a kitchen's fixtures and finishes creates a cohesive look.
It's All About Options
If you find the idea of enhancing the look of a given space with new hardware appealing, you should know that doing so is all about the available options. Given the current trends in door and drawer hardware design and finishes, you'll have an array of options to choose from—options that will enable you to achieve the look you want your chosen space to have.
Gold Tones
The resurgence of gold tones in door and drawer hardware is proof that what's old is new again. Whereas gold tones used to be the go-to choice for hardware, they fell out of favor in recent years—but now they're back. Today's brass is no longer the bright yellow brass of years past: These days, brass and gold tone finishes come in soft and warm tones.
Here are a few of the many gold tones you can consider when you're choosing new hardware for your drawers and doors:
Bright brass
Satin brass
Antique brass
Gold hardware and faucets are very popular in contemporary kitchens. They work nicely with both dark and white cabinetry and add a touch of luxury to any kitchen design. Using today's softer brass in your new kitchen is a way to make a design statement without being too flashy.
Silver Tones
Hardware in silver tones is a great choice for a wide variety of settings, including kitchens, bathrooms and bedrooms. Available in an array of silver tones, it's easy to find the perfect tone for any kind of space.
Satin chrome is a great choice for rooms where you want to create an edgy look.
Polished nickel hardware will go with just about any style
Antique pewter will lend a charming feel to any room
If your look is more contemporary, think clean, simple lines and stainless steel finishes
Bronze-to-Black Tones
Whether you want to give your new kitchen a timeless, Old World look or simply add a touch of elegance, you can't go wrong with drawer and door hardware in bronze-to-black tones. Aged bronze and matte black are just some of the options you'll be able to choose from as you shop for new hardware.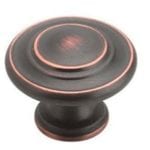 Many homeowners are choosing black, white or grey painted finishes for their kitchen cabinetry. Matte black, flat black or bronze-toned hardware can either complement or beautifully contrast with these colors. The contrast of black hardware against the lighter cabinet finish colors and white subway tiles adds a modern feel and even a touch of drama.
Mix-and-Match
Mixing and matching different styles of cabinet handles and knobs is a way to add visual interest to your kitchen. You can use one style of hardware for upper cabinets and another for lower cabinets, and you can use a third, different style for drawers.
You can even mix finishes if you want to try something bold. The ever-expanding variety of available finishes gives homeowners the freedom to mix and match. It's best to mix finishes with similar color temperatures, such as oil-rubbed bronze fixtures mixed with lighter, but similarly warm Champagne bronze and brass. Some hardware pieces even mix several finishes on one piece.
Hardware Design
Just like hardware is available in many colored tones, it's also available in different designs. From traditional round knobs to futuristic drawer pulls, square knobs, rectangular pulls, hardware and much more, you'll find them all in today's marketplace.
As more homeowners are staying in their homes as they age, the need to renovate for aging in place is growing fast. Simple, easy-to-grasp bars and knobs can be helpful for anyone, but especially for those with limited mobility due to age or disability.
There are plenty of accessible hardware solutions that do not sacrifice style. As people age, they change the way they use their kitchens to keep up with their lifestyle. By choosing appropriately-styled cabinet hardware, it's possible to get comfortable hand clearance and clean lines and popular finishes.
Not Just A Pretty Face
Cabinet hardware isn't just for looks; it plays a role in reducing cabinet wear-and-tear in terms of finger smudges and general grime that accumulates when bare hands touch cabinet door surfaces every day.
Overwhelming Choices
Getting a new kitchen requires many decisions, and selecting cabinet hardware is no less overwhelming than any of the other decisions you'll have to make. We at Craig Allen Designs suggest familiarizing yourself with some of the options you will have to choose from before making a final decision.
The following are links to some of the largest hardware manufacturers. Scroll through and see what you like, and when you're ready to finalize your kitchen design, we'll discuss your preliminary choices and see if they will work to achieve the look you want in your new kitchen.
Of course, home decorating websites like Wayfair and Pottery Barn sell cabinet hardware. You can check out their offerings too.
Contact Craig Allen Designs
When you're ready to install drawer and door hardware that will literally transform the rooms in your home, you can trust Craig Allen Designs with the project. We'll create a virtual example of what your home will look like with new hardware so you'll know exactly what to expect before we even get started.
To schedule an in-home consultation, contact Craig Allen Designs now.