Modern Farmhouse Kitchen Style
Farmhouse kitchen style is more popular than ever. Because of TV make-over shows like HGTV's Fixer Upper, people are loving the look more than ever. You can thank Chip and Joanna Gaines for farmhouse kitchen — or blame them, if you're not a fan.
While this type of kitchen was a thing before their show got popular, Joanna's signature decorating style is what everyone wants these days. Could it be a response to the minimalist trend?
Farmhouse kitchen style is traditional but not fussy, classic but not stuffy, and comfortable in a way that makes you feel right at home.
Farmhouse Style is Easy to Create
It's not difficult to create a farmhouse kitchen look. I've put together a list of the things that go into today's farmhouse kitchen style. Choose one or more from the list below, and I'll design a kitchen for you and explain how you can get the look you want with the cabinetry lines I offer.
Of course, I'll start with the cabinetry.
1. Shaker Style Cabinetry
The Shaker style is easy to recognize with their simple frames and flat center panels. Shakers were known for their modest lifestyle, where everything was plain, with no ornamentation. So it is with today's Shaker door styles. Their popularity comes from their versatility; they fit in with every possible decorating style – especially the modern farmhouse kitchen.
The Shaker door works well with inset or overlay styling. Beaded inset is especially appropriate for the Farmhouse kitchen look.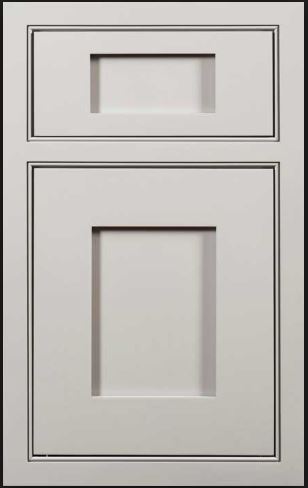 It's possible to get some detail on the doors, if square is too plain for your taste, by specifying a shaped outside edge and/or inside frame bead. In the example above, the Shaker door was modified by giving it wide stiles and rails.
Also, you can get beadboard center panels, wire mesh panels, or even louvered center panels that look like shutters for something really different.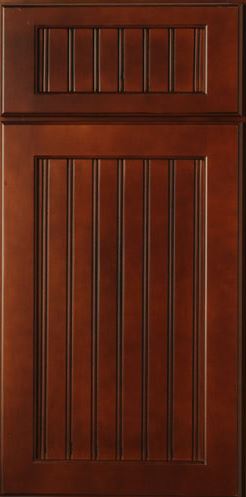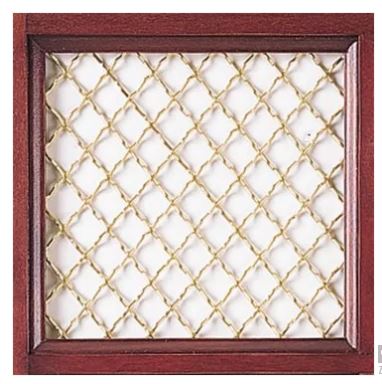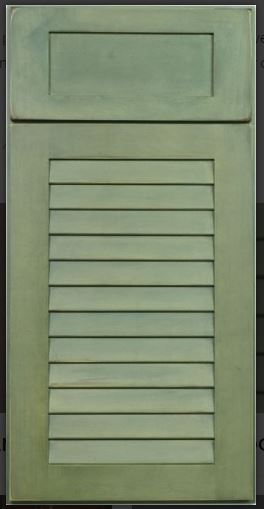 2. White Painted Finish
White painted cabinets are the most popular finish for a farmhouse kitchen. But really, any neutral color, like cream, beige and gray, all work well. These days, neutral colors are an important part of any modern design, and including one in your new kitchen will go a long way to creating a farmhouse kitchen-inspired style that isn't anything like your grandma's kitchen.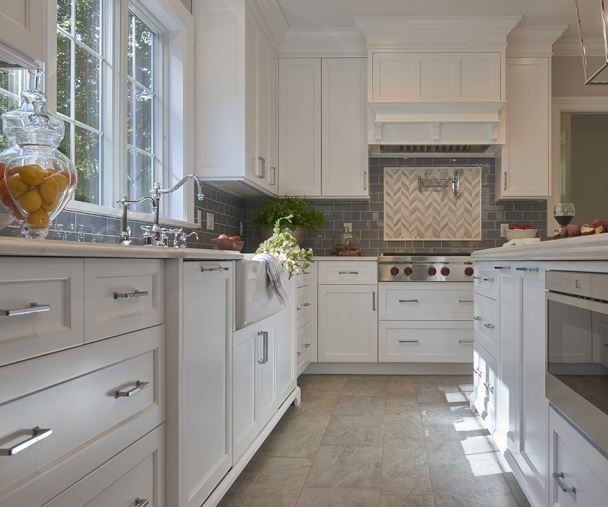 All one finish color doesn't have to be the only option. Color has its place. Blue cabinetry is trending in the design world, and shades of green are timeless favorites. One designer we know always recommends green for the kitchen because it comes it so many shades, from pale celery to dark forest. Something for everyone!
Since the modern farmhouse kitchen is all about including time-worn features, consider a specialty finish technique for your cabinets, such as glazed, antiqued, or distressed. They were popular with the Tuscan-style kitchens but have found their way back into popularity with the upswing in farmhouse kitchen style. Scratches, knots, and nicks add to the authenticity of the look.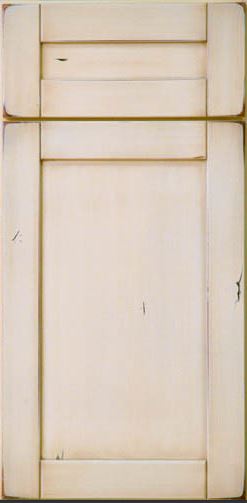 3. Shiplap
If Joanna Gaines is credited with the increased popularity of the farmhouse kitchen look, she's also responsible for bringing shiplap to the attention of homeowners across America. Shiplap is the rough-sawn pine paneling often used in barns. Homeowners are getting shiplap built into their new custom kitchens. We've seen it as island fronts and sides, as custom range hoods, and on walls.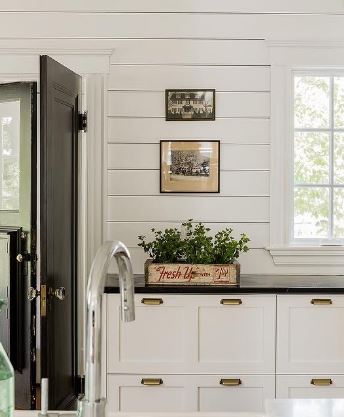 4. Farm Sink
A farm or apron front sink is the quintessential farmhouse kitchen element. Big, open, hefty sinks were a must to hold lots of produce from the farm, babies that needed washing, chickens that needed plucking and a much more. Often made of fireclay and cast iron, they can also be made from many other materials, such as copper, zinc and stainless steel, among others. Apron front sinks are charming and utilitarian.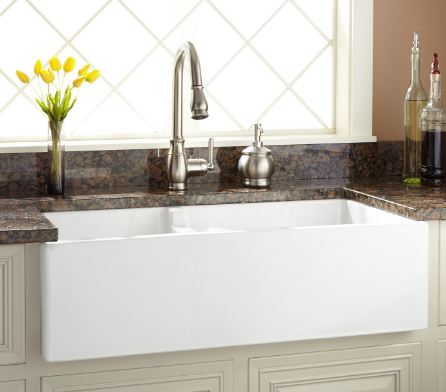 5. Wood Countertops
Butcher block countertops are practical and a nice way to add natural materials into your new space. In addition to butcher block, all forms of rustic wood are acceptable in today's farmhouse kitchen style. If an entire kitchen full of butcher block isn't for you, consider installing on just the island.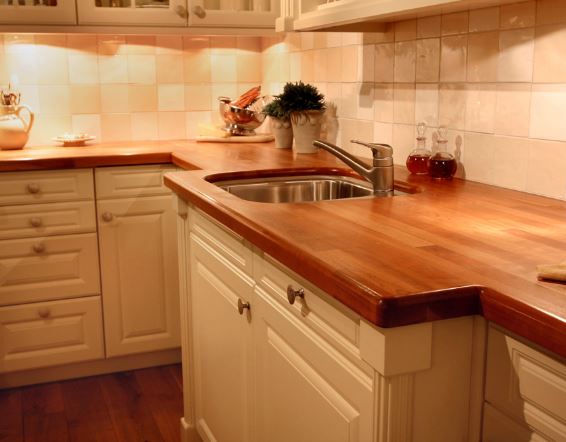 6. Beadboard
Beadboard is a farmhouse kitchen classic. It can be used on walls, ceilings, wainscot panels and center panels in doors. It can be the main focus of the room or an accent piece.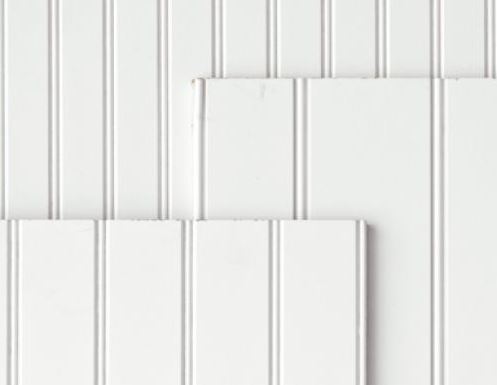 7. Open Shelving
Once upon a time, kitchens had nothing but open shelving for storing dishes. Then along came enclosed wall cabinets, and that style has remained constant until now, when the resurgence of the farmhouse kitchen style has created a demand for open shelves. You know what they say: what's old is new again.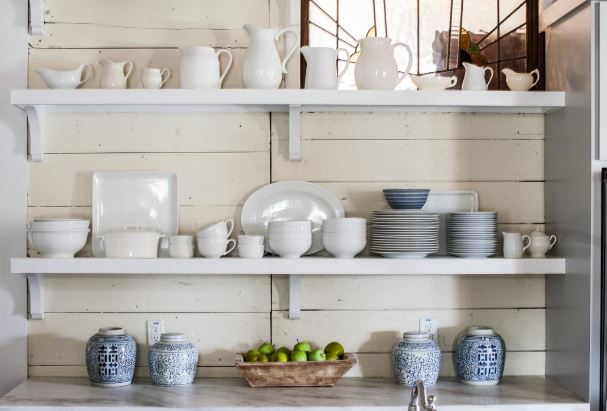 8. Glass Front Cabinets
Glass front cabinets used to be a luxury, but now these cabinets have become a part of the farmhouse kitchen style.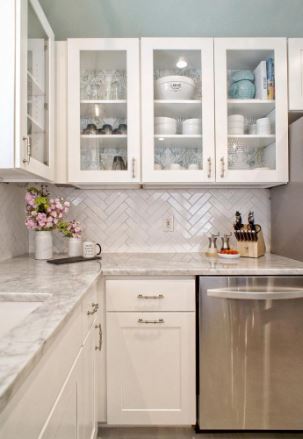 9. Wood, wood and more Wood
Wood is an essential element for the farmhouse kitchen style. Hardwood floors with wide planks, and exposed beams on the ceiling are part of a farmhouse kitchen.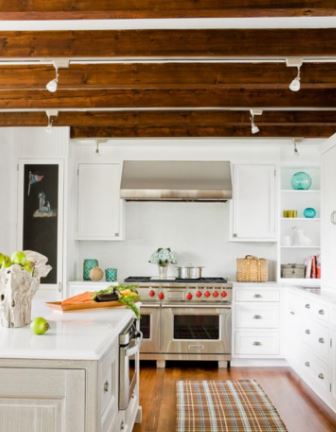 10. Vintage-Inspired Items
Farmhouse kitchen decor incorporates vintage-inspired items. Chalkboards work well with the rustic feeling. You can have a chalkboard center panel in a cabinet or two. I've even see the front of an island covered in chalkboard material. Formica now makes a writable chalkboard surface that fills the bill quite nicely.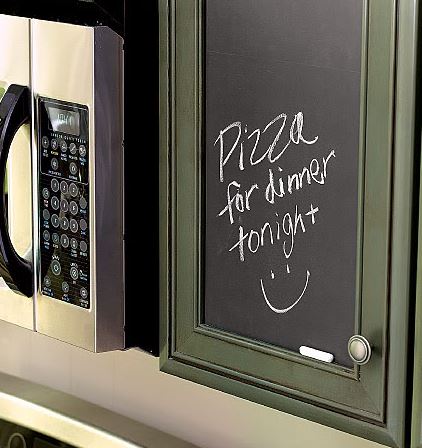 Another rustic feature that fits right in is the "X" cross piece on an island end.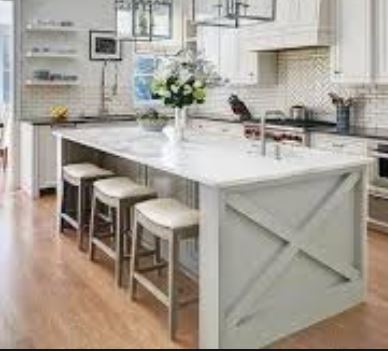 11. Sliding Barn Doors
In farmhouse kitchen design, the best accents are ones that also play a functional role. Sliding barn doors can be substituted when you don't have space for a regular interior door to open out into the room. Also, they look nice and are truly farmhouse inspired.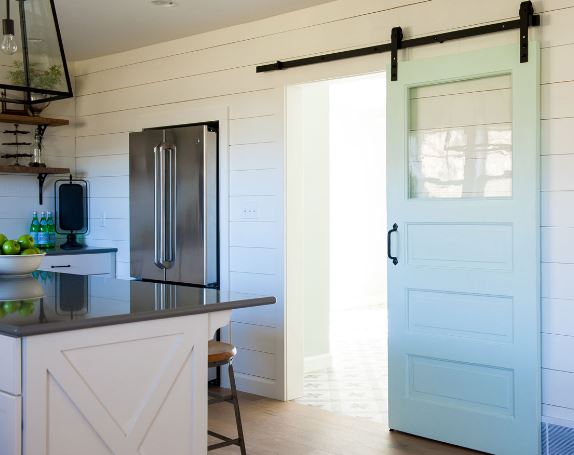 Will Farmhouse Kitchen-Style Kitchens Go Out of Style?
So, where's the trend headed — and can we even call it a "trend" if it has as much staying power as it's proven to possess so far? If the past few years are any indication, farmhouse kitchens are here to stay.
Want to learn more about farmhouse kitchen style? Here's some resources.