How to Choose a Kitchen Sink
There's no denying – every kitchen needs a sink. But unlike all the other things you must choose when planning a kitchen remodel, style should not be your number one consideration when selecting this necessity,
Instead, think about a sink that will work well for the way you and your family will use it. Prep work, cooking, and clean up all involve the sink in one way or another. Having a sink that best matches your needs and lifestyle is a critical factor in having a truly functional and efficient kitchen.
Every Kitchen Needs a Sink
Do you wash dishes in the sink often?
Are you a baker and need to wash cookie sheets?
How often do you entertain?
Is there more than one cook in your family?
Where do you want your garbage disposal — separate from the sink where you wash vegetables? Or is in the sink ok with you?
These are questions you need to answer before making a decision on a sink.
You Still Want Style
Of course, style can't be overlooked completely. These days, a kitchen sink is more than just a kitchen sink, as people remodeling their kitchens look for the combination of both style and durability.
Kitchen Sink Material
Kitchen sinks are typically made from the following materials:
1. Stainless steel. America's favorite sink material. If you're hard on sinks, stainless is the best choice. (More on stainless below)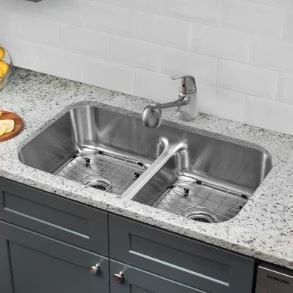 2. Porcelain Enamel-coated cast iron. This material – the same iron alloy as cast iron skillets — was once the standard in kitchen sinks. It won't crack or dent; it's extremely durable and has a smooth finish that's appealing.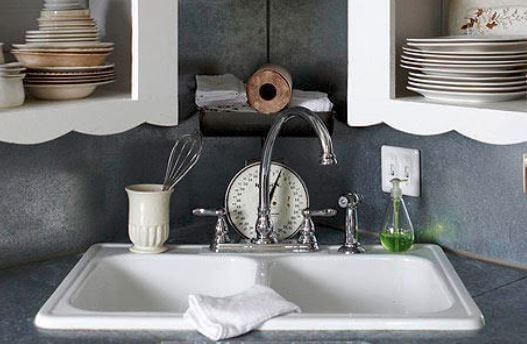 3. Solid surfaces Corian is a popular solid surface sink. Beautiful, functional, durable and stain and germ resistant are some of the reasons why Corian sinks are a good choice for a new kitchen. Solid surface sinks create an easy to clean up area
4. Granite Composites. Granite composites are made of granite particles and polymers, then molded into sink form. This material resists scratches and chips and doesn't show water spots. Composite granite sinks are formed under pressure, making them nonporous, germ resistant, and resistant to heat, stains, scratches, and chips. Today's granite composite sinks give kitchens a fresh, different look if you're not a fan of stainless and are looking for something that not every other kitchen has.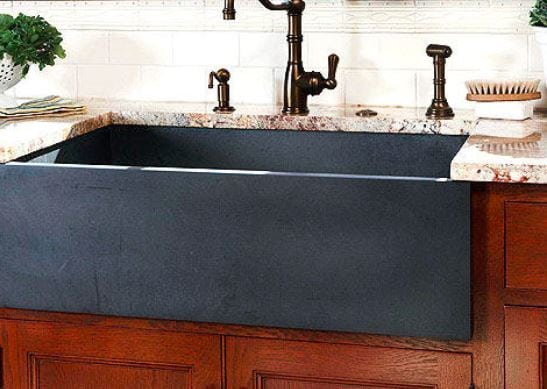 5. Fireclay. When clay and glaze are fired at very high temperatures, fireclay is created. It's a hard and durable ceramic that looks almost identical to porcelain enameled cast iron.
Porcelain and fireclay may look similar, but porcelain is less durable as the clay used is heated at a lower temperature during the manufacturing process, making it more prone to chips, scratches, and discoloration than fireclay.
A fireclay sink is a work of art. Each is handmade from a special white clay found only in certain regions of the world (including Italy, Israel, and Limoges, France). Fireclay sinks have a timeless appearance that can be a good option for homeowners who want a vintage look in a farm house or cottage style kitchen. They're especially popular for farm or apron front sinks, but are available in other styles.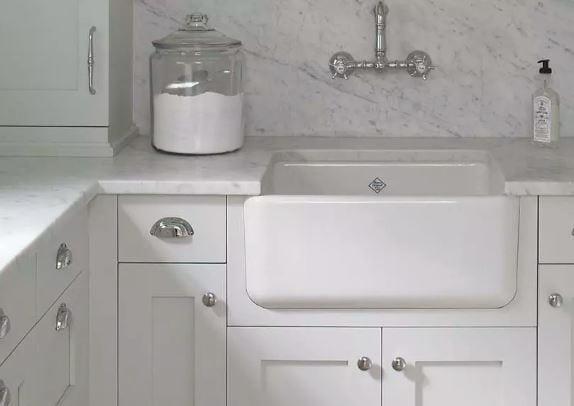 Why Stainless Steel?
Stainless steel is the most popular material for sinks and for good reason. It's a durable, easy- to-clean material with industrial strength appeal.
Gauge is the thickness of a stainless steel sink; the lower the gauge, the thicker the steel. 18- and 10% nickel for a luster that improves with age. It's resistant to dents, UV rays and germs.
The metal can scratch, but the marks can be buffed out of brushed stainless steel. Most manufacturers offer bottom grids (wire trays that are placed in the bottom of the sink to prevent scratching).
Kitchen Sink Bowl Styles
There are three main bowl styles.
1. Under Mount
Undermount sinks are defined by the way the sink is installed in relation the kitchen countertop. Rather than being dropped into a pre-cut hole, undermount sinks are installed under the counter; there is no rim between the countertop and sink. Faucets get installed in the counter behind the sink or on the wall.
The biggest advantage of these sinks is that there is no lip to catch dirt. You can just brush crumbs directly into the sink without anything getting trapped under the sink's rim.
In addition to easy clean-up, these sinks create a sleek, modern look because the edge of the sink is hidden.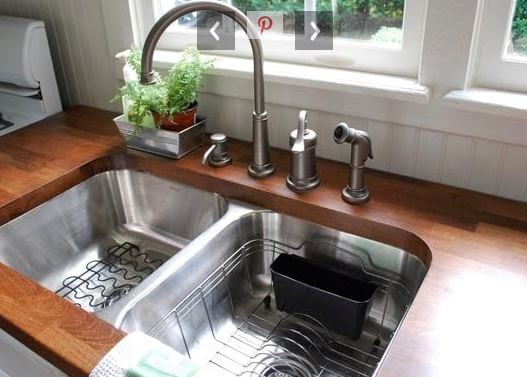 2. Self Rimming / Top Mount
Self-rimming sinks have rounded corners and are characterized by the "drop-in" rim that holds the sink in place on the countertop. The rim makes this type of sink easy to install, but also makes it easier for dirt to accumulate. The faucet mounts directly on a sink ledge along the back edge of the sink.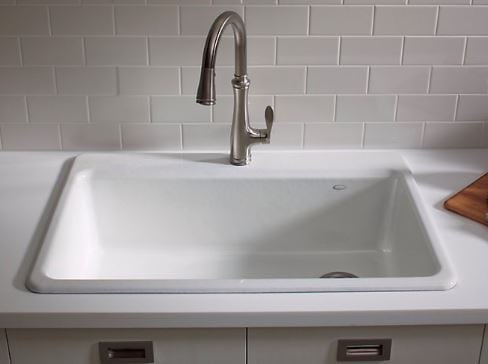 3. Farm House
Most farm house sinks are single, large basins; two bowls are available. The difference is their apron front, which has a vintage vibe many homeowners love.
With a typical sink, the basin can be four inches away from the edge of the countertop, but a farm house sink sits beyond the counter line, meaning it's easier to reach into the sink — especially handy for short people and children. They're also great for accommodating large pots and pans and other kinds of bake ware that don't fit in a regular sink.
Farm house sinks are heavy and require a base cabinet built specially to take the weight for installation.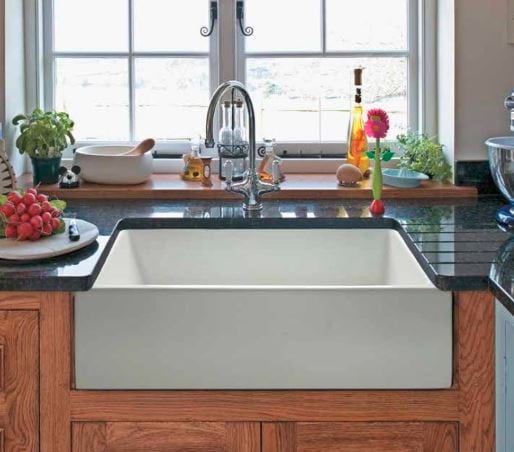 Match Your Prep and Clean Up Style
1. Steep, Straight Side Walls
Deeper bowls can accommodate soaking and rinsing large pots and pans. A relatively flat sink bottom increases usable bowl space and allows dishes and glasses to be safely stacked.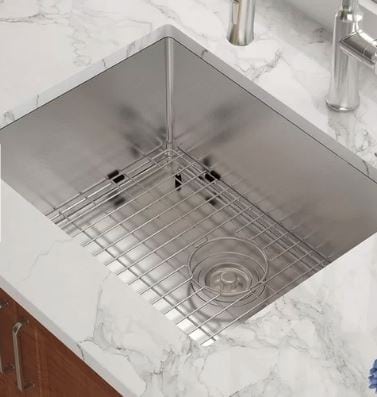 2. Off-set Drains
Placing the drain to one side provides more flat space for stacking dishes and glasses. Offset drains also allow water to drain, even when a large pan or tray is soaking in the sink.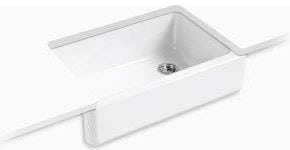 3. Web Divider
For double bowl sinks, the web divider between the two bowls should be lower than the outside sink walls. This will provide overflow protection by allowing water to flow from one bowl to the other.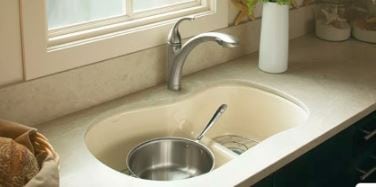 How Many Bowls Should Your Sink Have?
1. A Large, Single Kitchen Sink
A kitchen sink with a single, deep basin means you can easily soak or wash a big pan or prep large quantities of food.
2. Two Basins of Different Sizes (A 60/40 Or Offset Sink)
A 60/40 kitchen sink has one basin that is usually about 18 inches wide and another that is 14 inches wide. The idea is that you can clean up in the large basin and prep in the smaller one. Two basins in your kitchen sink allow you to easily perform separate tasks, such as cleaning dishes and preparing food.
Dual basins also come in handy when you are washing items you don't want to put in the dishwasher. You can have soap in one basin and rinse water in the other.
3. Two Basins of Equal Sizes (A 50/50 Sink)
This type of kitchen sink appeals to people who love symmetry in design. It also has the benefit of allowing separate tasks, such as cleaning, prepping and washing, rinsing.
4. Three Basins (Two Large Ones and One Small One with a Garbage Disposal)
If having the garbage disposal separate from where you're washing dishes is important to you, then this sink configuration is what you're looking for. The garbage disposal can be separate from the sink.
Two Sinks?
While the majority of American kitchens have only one sink, the demand for two is growing in new construction and kitchen remodels. Two kitchen sinks can improve kitchen workflow.
Having two kitchen sinks allows one to be dedicated to clean up and the other can be the prep sink. When the cleanup zone is separated from the prep zone, traffic flow and organization is greatly improved.
Another benefit of having two sinks is that multiple cooks can work together without bumping into each other.
The two-sink setup also works better for a solo cook. It prevents dirty dishes from getting in the cook's way or from forcing the chef to stop in the middle of a task to clean out the sink. Instead, dirty dishes go in the designated cleanup sink — and the cook can keep on cooking.
Conclusion
Now when you go shopping for a sink for your new kitchen, you'll have the information you need to make an informed decision.
1. What material will stand up to the way you use a sink?
2. What bowl style will meet your needs? And look good?
3. How many bowls should your new sink have?
4. Might two sinks be right for you?
The following links provide additional information about choosing a sink.