Kitchen Design Products That Last
When you remodel your kitchen, you naturally want to use products that are built to last, that are handcrafted using time-tested techniques, that have a proven record of longevity. Not something that looks good at first but falls apart or stops working in a year or two.
We live in a disposable world. Think of all the things we use and toss — plastic forks and paper plates, diapers and batteries, coffee pods. The list goes on and on (unfortunately for the environment). "Disposable" usually implies cheap and short-term convenience, rather than quality, well-made products.
What's the point of a beautiful new kitchen if it doesn't stay looking great? I've been designing kitchens for years now and have learned a few things along the way.
And homeowners ask me all the time about the quality of the products I recommend and specify for their kitchen or bath remodel project, so I've put together this list of things that last.
Note: This article does not address trends in kitchen design. Instead, I'm going to list the products I've found that will stay looking good and continue working for years to come.
Countertops
No matter what material you choose, kitchen countertops must be able to withstand hard use, take hit after hit and look good before, during and after.
Mother Nature creates the longest lasting and most durable countertop surface materials. Nothing lasts longer than stone. Granite, marble, soapstone, limestone, quartzite, travertine – any of these will outlast everything else in your house. But not everyone can afford these natural wonders.
If your budget allows for any of these natural beauties, I can help you with your selection. For those of you who are on a budget, other long-lasting options are available.
Laminate for Countertops
If you don't have the money for stone, laminate countertops are relatively inexpensive and can always be upgraded to stone when you do have the budget. Today's laminates are affordable and heat-, stain-, and water-resistant. They're not like your grandma's countertops. They're available in realistic looking marble and granite patterns and come in 5-by-8-foot sheets, which means they look like expensive granite, marble, or butcher block but with fewer joints.
I totally recommend staying away from the entry-level, plastic laminates that look thin and dull. They scratch easily, and if the product underneath the laminate gets wet, it can delaminate the countertop. A hot pan on the plastic will result in a melted mess.
New laminate countertops created using technology are scratch resistant, have textured surfaces, and come in patterns that look like real wood and stone. For an average 10-by-20-foot kitchen, the luxury laminates will cost about $3,000, well worth it for durability and long life.
Quartz for Countertops
Quartz countertops are pricey, no doubt about it. But quartz requires no maintenance — ever. (Note: Natural stone requires special cleaners and regular sealing.)
Unlike marble and granite, manufactured quartz is resistant to stains, mold, mildew, and bacteria. Hot pots, knives, lemon juice, wine and abrasive scrubbing pads can't damage quartz. And it will last a lifetime. It's no wonder quartz has replaced granite as the most popular countertop material.
Floors
Luxury Vinyl Flooring
Vinyl requires less care than linoleum. Today's luxury vinyl has thicker layers than its thin predecessors that help to prevent scuffs, scratches, and cuts. Sheets come in 12-foot-wide rolls, so in most homes, you can cover the floor in one sheet, with no seams, making it easy to clean since crumbs don't get into the cracks. Vinyl is also available in planks and tiles, and they are easy to clean with a broom and mop, since they click tightly together. No grout to scrub.
And it will stay looking good for years. You won't see a worn footpath from stove to sink to fridge.
Glazed Ceramic Tile For Floors
Glazed ceramic tile will literally last longer than you do. It's immune to moisture, stains and acidic foods and wipes clean easily. And unlike stone, the tiles don't require sealing. The tiles that look like hardwood planks are especially popular.
Hardwood Floors
Hardwood has warmth and personality and makes homes cozy and inviting. And it goes with any kitchen style — from contemporary to transitional to traditional. They're perfect for open floor plans – the most popular layout today – as it flows from the kitchen into adjoining rooms. And it's tough. Solid hardwood floors can be refinished 10 to 12 times during it's typical 100-year lifespan. Now that's long-lasting.
Stainless Steel
A stainless steel sink looks good in any kitchen style, from modern to country, and it's better than other sink materials when it comes to resisting stains, chips, high heat and sharp impacts, like from a dropped knife or cast iron pan.
Some people object to stainless steel because it shows fingerprints, but fingerprints can be wiped away. You can't wipe away chips.
A stainless steel backsplash is fire-resistant and has been used (and abused) forever in restaurant kitchens. Stainless steel is tough, and it won't corrode when tomato sauce gets splashed on it. Using a single sheet of stainless eliminates seams and makes cleaning very easy with just soap and water. It doesn't have to be one-dimensional and boring, either. Stainless steel backsplashes now come in patterns to add some fun and interest to your practical, long-lasting backsplash.
Subway Tiles Backsplash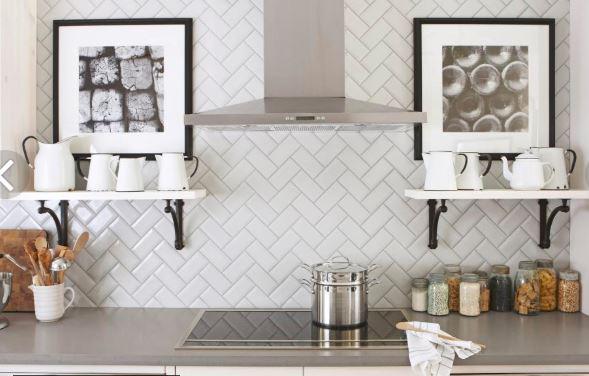 Subway tile really was used in New York's first subway tunnels, a fact that shows long lasting value. Classic subway tiles are white, 3-inch-by-6-inch rectangles that last forever and always look classy.
Today, there are different sizes and colors available. You can also install them in ways other than horizontal – vertical is nice and herringbone really gives a different look.
Solid Brass Faucets
A faucet that can do all the things you need it to do – and continue doing those things for years and years – starts with a solid brass core. The core is not the color – that's the plating. Some faucet cores are made of plastic or a zinc alloy, which will begin to deteriorate once the plating wears away.
Check the box when faucet shopping or talk to a salesperson to help you find the best one.
Or you can ask me – I'll be happy to give you my recommendation when we're designing your kitchen. Over the years I've seen a lot of faucets, so I know what lasts and what doesn't.
Plywood Cabinets
If you've always thought that quality made, long lasting cabinets must be made of solid wood, that would be wrong. Furniture-grade plywood is made of pressed layers of wood and adhesives, which give it composite strength. And it doesn't warp like solid wood.
I have lots to say about cabinets and why they deserve a spot on this list. Most cabinets have a lifetime warranty – that tells you a lot.
And you can't go wrong with Shaker-style cabinets with their simple lines that will look good forever. Like hardwood floors and subway tiles, they will last.
LED Lighting
The use of LED lighting has changed the way kitchens are lit. Not that long ago, incandescent and halogen lights were the only options. Now with the wide variety of LEDs available, those types of lighting are in the history books.
LEDs use much less electricity than other bulbs and produce very little heat. They can be used for the types of lighting needed for a well-lit kitchen, and they can be installed in the toe kick, over the cabinets and inside doors and drawers.
In addition to their versatility, LEDs are extremely long-lasting. Many have a rated life of up to 50,000 hours! Used 12 hours a day, a 50,000 bulb will last more than 11 years. That's 50 times longer than a typical incandescent and 20-25 times longer than a typical halogen.
LED lights definitely belong on the "things that last" list.
Appliances
I'm not going to get into a discussion about appliances. I can recommend sizes based on your room dimensions and lay-out, but you will want to be guided by an experienced salesperson who will make recommendations based on how you will use them.
Conclusion
Most people remodel their kitchen only once in a lifetime. It's an expensive, time-consuming process, and you'll probably want to do it only one time. When it's finished, you'll have a beautiful, functional kitchen. And you want it to stay that way for as long as possible.
By choosing products that are made well and made to last, your new kitchen can last a lifetime.
When you're ready to get started, give me a call. 201-444-2239.