Shaker: The Most Popular Kitchen Cabinet Style
The kitchen style I get asked for most often is "Shaker". Homeowners see it in magazines, on design-themed websites and tv shows — pretty much everywhere — and they like what they see and want Shaker for their own remodeled kitchens. And, as the lead designer at Craig Allen Designs, I'm happy to help them get what they want.
But what is "Shaker" exactly?
One thing I know for sure is that "Shaker" as a design style is so popular that, more than 150 years after the Shakers came to the United States, it's a favorite for kitchens. And not only here in New Jersey where I work, but in the entire country. In a poll of more than 1000 homeowners, Shaker cabinets were voted most the popular style with 57% of the votes.
What is Shaker Style?
"Shaker" refers to a style that has become known for certain characteristics:
*Classic
*Simple
*Timeless
*Functional
*Utilitarian
*Works with Traditional, Transitional and Contemporary designs
*Understated
*Features excellent craftsmanship
Who Were the Shakers?
The Shakers were a religious sect officially named The United Society of Believers in Christ's Second Appearing. They broke off from the Quakers in England, then as a result of continued persecution, they came to America before 1800.
If you're wondering why they're called "Shakers" – it comes from the religious raptures they experienced during worship services that made them tremble and shake.
They didn't believe in material possessions, and their lifestyle was based on simplicity, order and neatness. Their guiding principle was "beauty rests in utility", meaning their work contained no unnecessary ornamentation and every item in their lives had to have a purpose.
(The Shaker story is interesting – several members of the Shakers lived into the 20th century.)
Shaker Cabinetry
The Shakers were skilled craftsmen and carpenters and are known for their practical furniture with plain, simple lines. They used joinery techniques, like dovetail joints and wooden peg assembly, to build ladder-back chairs, tables with square legs and solidly made wood cabinets. The cabinets used in today's Shaker kitchens reflect the type of furniture built by the Shakers.
They used local hardwoods – Maple, Cherry and Pine — for their work, in contrast to other furniture at the time that was built using imported woods, like Mahogany. The Shakers crafted turned wood knobs they made themselves, rather than import brass hardware like other furniture makers.
Shaker Doors and Drawers
A Shaker cabinet door is what we today call a five-piece door, or frame and panel door, or rail and stile door. Its simple construction consists of a recessed flat center panel with no ornamental details on the stiles and rails (the vertical and horizontal door edges).

A cross section of a Shaker cabinet door shows a flat center panel surrounded by raised stiles and rails.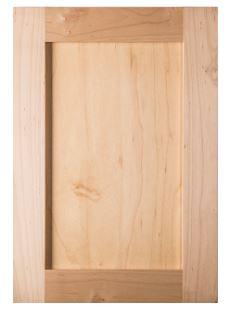 The stiles and the rails (the outside frame of the door) are traditionally 1-1/2" wide, but in today's design world, there are many variations of the Shaker door. One of the door styles most often selected by my clients is the Shaker door with 3" stiles and rails that is shown below with a slab drawer front.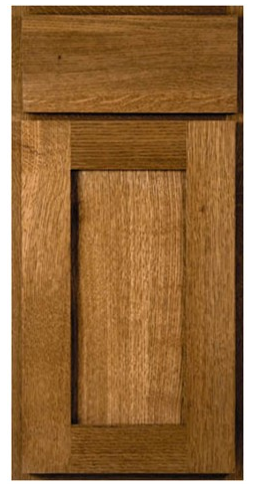 When we combine the five-piece doors with five-piece drawer fronts or simple slab drawer fronts, we get a complete look.
A Shaker Style Kitchen with Full Overlay Doors
Here's a kitchen I designed that shows the Shaker door and door combination. These homeowners chose the five piece drawer front.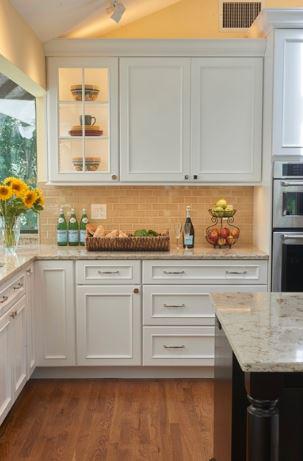 In keeping with the Shaker design principle of simplicity, the doors and drawers can be installed using inset or full overlay styling. The photo above shows full overlay installation. Notice how the doors and drawers completely cover the cabinet frame.
A Shaker Style Kitchen with Inset Doors
The picture below is another kitchen I designed using Shaker doors and drawers, this time using inset. In inset, doors and drawers are installed into the cabinet frame so that the frame is visible. Both full overlay and inset show off the simplicity of the Shaker style; either one gives a nice, smooth, flat run of cabinets. It's a matter of personal preference. What do you like?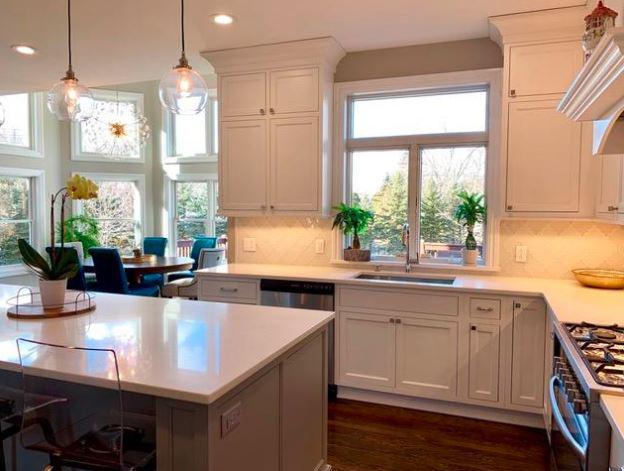 To find out more about the different ways doors and drawers can be installed, we have an article on our Blog that goes into more detail.
Hardware for a Shaker Style Kitchen
Cabinet hinges are usually hidden or concealed to keep with the tradition of simplicity in the Shaker design. If you notice in the two photos above, no hinges are visible.
Wooden knobs or handles are ideal for a Shaker kitchen because they complement the simple features. The Shakers probably crafted knobs that looks like this: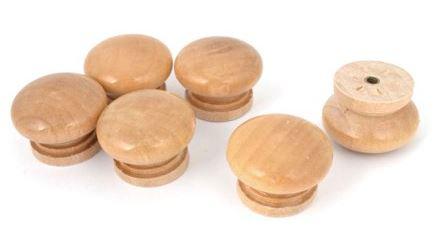 However, many different styles of wood knobs and pulls are available. Because Shaker doors are very plain, you can mix things up by using something not so simple. The Shaker style kitchen can take it! It gives you a blank canvas to build upon and show off your unique personality.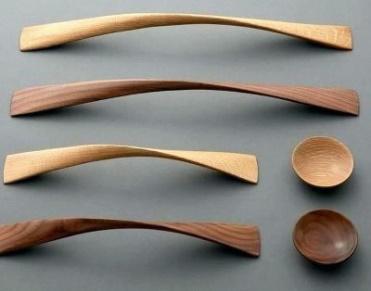 Summary
A question I get asked by many of my clients is "will my kitchen look dated in ten years?" My answer is always the same: although I can't predict the future, I feel confident in saying that if they select a style that has been popular in one form or another for a hundreds or more, like Shaker, they can probably feel safe in their selection, and their new kitchen will look terrific for years.
And the beauty of Shaker cabinets is that if (or when) you get tired of the way your kitchen looks, you can change out the hardware or get new countertops, backsplash, range hood, appliances – something or anything. But your Shaker cabinets will fit in with the new additions, no matter what they may be.
Kitchen remodeling is an investment. You want to choose a style that goes beyond trends and fads. When you select Shaker style cabinets for your kitchen remodel, you can get be assured that you're getting a timeless look that will endure for years to come.
If you're ready to get started on remodeling your kitchen, call Craig Allen Designs to set up an appointment.