Cabinet Built-in Accessories
If you're building a new kitchen or remodeling an existing one, it's important to consider how to best utilize the available space. One way to do so is to specify built-in cabinet accessories that improve both the function and appearance of the room.
Cabinet built-ins will provide all the storage you need. And you can keep your new kitchen clean and uncluttered when you store things like your coffee maker, blender and toaster out of sight but well within reach.
My job as a kitchen designer is to layout your new space, first of all, but I also assist with making decisions about cabinet interior storage solutions to make the most of your cabinet storage.
As you plan your new kitchen, you will be required to make many decisions, and interior cabinet storage accessories are equally as important as cabinets and countertops. The
manufacturers of these built-ins haven't made your decision-making any easier – there are literally hundreds of products available, at every price point.
I'm here to guide you. Let's start with the one accessory that is a "must-have" – trash pull-outs.
Trash Pull-Outs
Trash is dirty. It's also mundane and boring – an inevitable by-product of modern day living. But nothing can ruin your new kitchen faster than not having enough space allocated to trash management.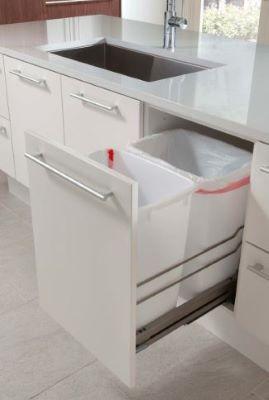 Many, many options from many, many suppliers are available when it comes to trash pull-outs. I will help you narrow down your selections by asking how fussy you are, how much trash you produce, how you recycle.
I recommend a unit with a metal frame and two trash bins, one for trash and one for recycling. Why do I make this recommendation? Because a metal frame is much easier to keep clean than wood. Ideally you want to be able to access the area where the trash bins sit and wipe everything down without too much effort.
The finish on the metal? Lids or no lids? Color of the actual trash bins? That's all up to you to decide.
Spice Rack Pull-Out
People who like to cook — or even people who don't like to cook but have to do it anyway — never have enough storage space for all the spices they accumulate. Spice rack pull-outs can help corral the chili powder, turmeric and cinnamon. They come in various widths and heights and can keep the spices close at hand when cooking.
A spice rack pull-out is a great example of the idea that more is better. Many people choose to install two spice rack pull-outs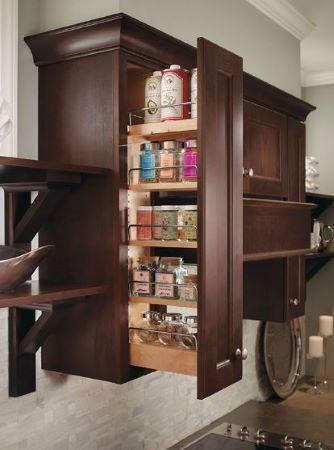 rather than just one because they have a large spice collection. While the racks can be used in wall or base kitchen cabinets, most cooks choose to have theirs near the stove.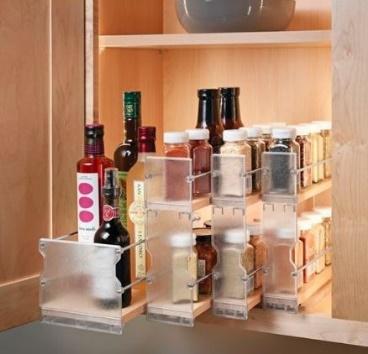 Where to place them is a decision we will make together when planning your kitchen layout.
Again, many options to choose from. They're available in wood or metal, they can attach to the cabinet door and pull out when the door is opened or they can get pulled out by hand after opening the door.
Here's two other spice storage options. Both are from Hafele, one of the leaders in the built-in cabinet storage accessories industry.
Another industry leader is Rev-A-Shelf; they have cabinet built-in storage items for every possible storage need.
Pantry Pull-Out
A pantry pull-out is a great space saver and organizer. If your new kitchen layout just can't accommodate a walk-in pantry, we can find the space for a pull-out. Pantry pull-outs maximize storage space, making them great additions in small and large kitchens alike.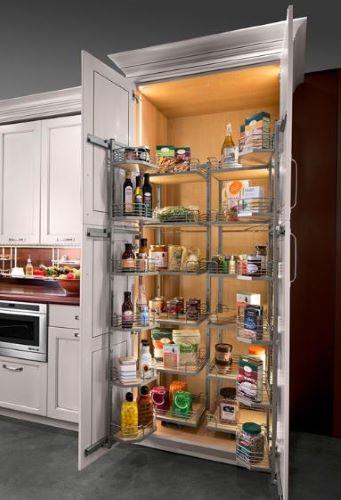 The best thing about a pantry pull-out is that everything stowed on its shelves is visible and accessible. No more lost boxes of pasta or having to take everything off the shelves to find what got shoved to the back.
Again, many options. You can get a pantry pull-out with wood or metal shelves and they're available in different widths and heights, depending on your kitchen layout.
Here's a version of the pull-out pantry in a tall pantry. Shelves are attached to the door and slide out when the doors are opened.
Notice the LED lighted interior. Guaranteed nothing will get lost in this pantry.
Pull-Out Cabinet Step Stool
When you look through our gallery of completed kitchens and baths, you can see that I design with function in mind. Too many kitchens have cabinets that simply aren't practical or accessible. If you've ever had to crawl onto the counter to get into an upper cabinet, then you know exactly what we're talking about.
Rather than having to yell for help from a taller family member, you can reach all the items in your wall cabinets by having a pull-out step stool installed in the toe kick in one of your base cabinets. This handy built-in accessory will let you stand taller in your kitchen, putting everything within your grasp.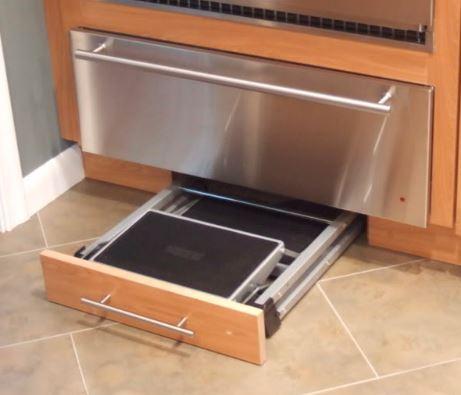 I recommend the step stool that stores in the toe kick for easy access.
Blind Corner Storage
The corner where the cabinets meet is dead space, a typically unused storage area in older kitchens. It's dark and difficult to reach items if there's nothing more than a simple shelf installed.
Today's kitchen accessories make excellent use of this space with many variations of pull-out, slide out shelves that bring the cabinet contents to you, so no more bending, stooping and kneeling with a flashlight to find something that got pushed to the back.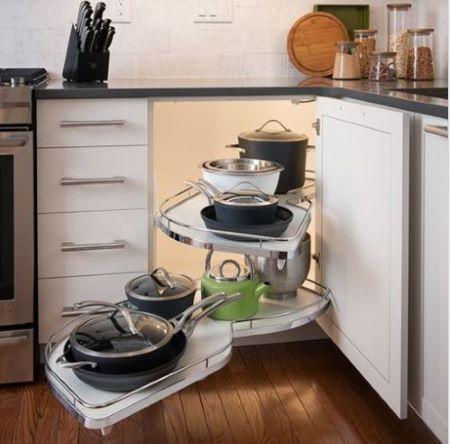 Here's a few examples.
Shown at left is the LeMans pull-out swing out. The kidney shaped shelves slide smoothly into and out of the corner space.
It's pricey, but if your budget allows, it's top of the line.
Follow this link to the manufacturer's site and watch a video of the LeMans in action.
Another more affordable option is lazy susan shelves that revolve and bring your bottles and boxes to you. Shown here with wire shelves and wire keeper but wood options are available if you don't care for wire.
Docking Drawer
A relatively new built-in storage solution on the market is the docking drawer. With the docking drawer in your kitchen, the chargers for your electronic devices and the devices being charged are stored away and out of sight. No more tangled up cords on your countertop.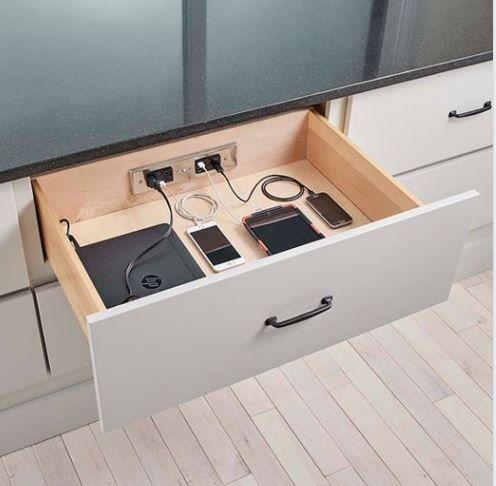 Drawers can be configured with USB ports or electrical outlets or both. Everyone wants one of these.
Connect with the Home Design Experts at Craig Allen Designs
Cabinet accessories are intended to save counter space, improve organization and make a space more functional. This article is a brief overview of only a few of the many accessories that are available.
To learn more about built-in cabinet accessories and how we can incorporate them into your kitchen design, contact Craig Allen Designs now!