What Finish Colors Are Trending for Cabinets?
While trends in kitchen cabinets come and go, the need for cabinets remains. Because kitchen cabinets aren't going anywhere anytime soon, you want to stay informed about what's trending in cabinet finishes if you're considering a kitchen remodel.  You wouldn't want your new kitchen to become dated prematurely.
"All In" On White
If you adopted social media early on, you surely know that all-white kitchens have been a "thing" for many years. Even today, white cabinetry remains popular and with good reason. White is the color associated with health, cleanliness and freshness – the very qualities every kitchen should possess.  In 2019 and moving forward into 2020, the all-white kitchen has been toned down by mixing white with other cabinet finishes. White paint combined with grays and other neutral colors that complement the white and don't detract from it create a stunning effect.
This trend of combining finish colors will remain solidly popular for anyone who wants their newly remodeled kitchen to stand the test of time.
Run with Matte Black
If you want kitchen cabinets that contrast to their white brethren — if you are, in fact, suffering from white cabinet overload — then consider cabinets finished in matte black. Black is chic, elegant and dramatic – everything white is not.
Cabinets finished in matte black, whether they're painted or stained, will not make your kitchen look smaller, which has unfortunately attached itself as a fact to dark cabinet finishes. Not true! In fact, they open up a space that may feel confined when everything is one color. Cabinets finished to show off the natural wood paired with black create a great combination, one that has been successfully used in the popular farmhouse style.
When incorporated into a kitchen design that includes complementary or brighter colored accents, matte black cabinetry can give your kitchen an undeniably dramatic flair.
Combine Wood and White
Although an all- or nearly all-white kitchen is a seemingly perennial trend that may never go out of style, current trends involving kitchen cabinets allow, and even encourage, creating a space that reflects your tastes, preferences and personality and the heck with old-fashioned decorating rules. No matter what your aesthetic might be, these trends give you the judgment-free ability to try new things.
Having said that, combining cabinets finished with a natural stain that brings out the character and beauty of wood with white trim, countertops and backsplashes – even walls– may work nicely in your kitchen. It's all about putting together colors and finishes that you like and want to live with.
Combine Color and White
Homeowners who want to hold onto the ever-classic look of their white kitchens while still acting on the latest trends can do it by finishing select cabinets in a color they love. Shades of blue and different variations of green are seen the most often.
If you have a kitchen island composed of cabinets plus countertop, consider adding a colorful finish to your island's cabinets.
Matching the kitchen island with the surrounding cabinetry can create symmetry, it's true. But a kitchen with a single-color scheme can sometimes appear monotonous. Dare we say? – even boring. Having a kitchen island with cabinets that are a different color than the rest of the kitchen cabinets can liven up the space and create contrast, a key element in a well-balanced design. Plus it makes the island a focal point of your new kitchen.
Ditch the Unified Cabinetry
Having matching wall (upper) and base (lower) cabinets used to be the way kitchens were always designed, however, it is no longer necessarily the preferred option. Today, having different upper and lower cabinet finishes is a smart way to breathe fresh life into a kitchen. This trend of having two finishes works for just about any style you prefer, from farmhouse, to penthouse, to traditional, to contemporary, to transitional.
In general, base cabinets get finished in a darker color than upper cabinets, although there are plenty of exceptions to this "rule."
And more and more people are doing away with wall cabinets and replacing them with open shelves, the better to display their dishes and serving pieces, especially if they have windows that showcase a nice view.
Go Bold!
To really express yourself with your cabinet finish color, go bold. There are many ways to use color as a means of self-expression and having a kitchen with cabinets finished in your favorite color is one of them. And you won't be alone. Designers from across the internet report that more and more homeowners are making a statement and creating a mood with the color they choose for their cabinet finish.
Sherwin-Williams supplies paint to cabinet manufacturers that's used for finishing cabinets, so they are tuned it to the trends influencing the cabinet industry. They recently announced their color of the year for 2020 —Naval. Instead of showing it only on walls or trim, they featured a beautiful little kitchen that combined Naval on cabinets and polished brass accents to set it off. You can see more here in a video they posted on their website.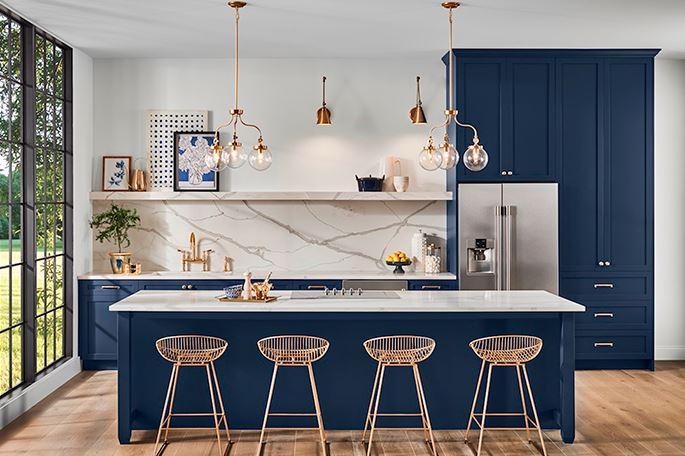 Get in Touch with Craig Allen Designs
Craig Allen Designs has a proven process for designing custom cabinets for clients who want a traditional look, a contemporary aesthetic or anything in between those extremes in their kitchen. Whether you want to remodel your kitchen or simply update it with custom cabinets that reflect some of the latest trends, we'll design cabinets that will create the look and feel you want in your kitchen.
Contact Craig Allen Designs to schedule an in-home consultation today!