Use Custom Cabinets for Pet Care Supplies
Millions of American households include at least one pet. I'll confess – I have a four-legged family member; most likely your family has one, too. As pet owners, we don't simply welcome pets into our homes for the unconditional love they give us. We want to return their affection by buying them things. Lots and of lots of things. The American Pet Products Association reports that Americans spent $72.56 billion on their pets in 2018, with total spending expected to go up even more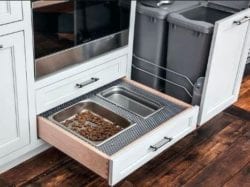 Pet Care Involves Lots of "Things"
And just like other family members, pets acquire and accumulate "stuff". Pet equipment can quickly overtake your home with clutter if you don't keep it under control. There's leashes, grooming tools, wet food, dry food, treats and toys. So many toys.
When your pet needs his coat brushed after a romp at the dog park, do you search the whole house for the brush? And when you ultimately do find it, is it under the bed? In the backseat of your car? In your daughter's backpack? If this is your life, you need help.
And then there's food and water bowls. Aren't they always in the way of traffic going in and out of the kitchen? They aren't just clutter. They are easily knocked-over and tripped-over obstacles.
Organizing pet supplies doesn't have to be complicated. And it won't be if you break down the task of organizing into manageable sections. Having one central location to take things from and return things to makes it easy.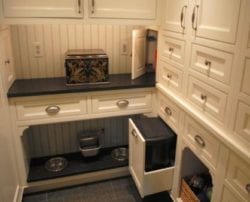 Custom Cabinetry to the Rescue
Custom cabinets can help you keep your pets' necessities under control. How you ask? Dog owners and people with more than one cat often find themselves struggling to figure out how to make room in the pantry for those large bags of food that are too big to store in an existing cabinet.
That big 50 lb. bag of dog food that you tried to shove into your too-small pantry may spill, which leads to a big mess and/or a feeding frenzy. With custom cabinets, storing food is no longer a problem because you can have the cabinet made to the exact size you want.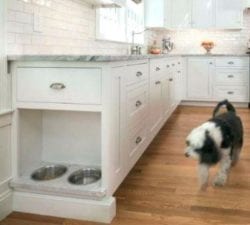 Plus, you can get a convenient shelf that rolls out on heavy duty guides so that you don't have to lift the heavy bag.
Or you can try this. Large capacity pull-outs designed for trash or recycling that can hold a lot of weight are perfect for storing pet food. Your kitchen designer can specify a stainless steel drawer insert – one whose original purpose is to keep bread fresh – as a pet food storage option.
Custom cabinetry makes it possible for you to have easy access to your pet's food whenever it's feeding time.
Organize Pet Supplies
Cabinets can include interior fittings perfect for hanging leashes or storing pet grooming supplies.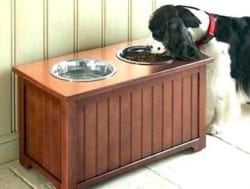 Likewise, cabinet drawers repurposed to hold food and water dishes can be pulled out at meal time, then tucked away when not needed.
And not to ignore Fluffy – custom cabinets can be configured with shelves that double as cat perches.
Custom pet cabinets aren't just great in the kitchen. You can get them made to store your pet's grooming supplies in a laundry room or one to contain your pet's leashes near an entryway or in a mudroom.
Dedicate an Area for Pet Necessities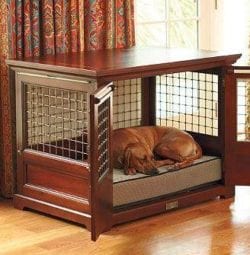 When you begin making plans to remodel your kitchen, think about dedicating an area for your pet and all his supplies. With custom cabinets, your kitchen designer, Craig Allen Designs, can specify one that provides all the space you might need for storage, plus gives Fido a place just for eating and one for sleeping.
For inspiration, here's how some other pet parents have used custom cabinetry to take care of their pets.
Pet Food Storage

Kibble Drawer. To store Fido's food so that it's convenient and out of sight, a deep drawer is ideal. In a two drawer base cabinet, the top drawer can be used for food storage, and the lower drawer can store bowls or canned dog food or treats.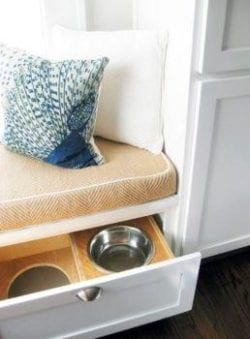 All-In-One-Feeding Station. Custom cabinetry can give you a feeding station with hooks for leashes. The bowls for food and water pull out to give the four-footed diner easy access. Food cans and bags can be stored in another cabinet. Don't forget a drawer to keep scissors, brushes, nail clippers, and other small items necessary for dog maintenance.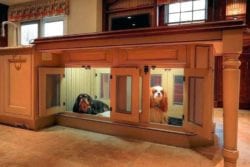 Feeding Bowl Roll-Out. You can put your dog or cat's water and food dishes in a shallow drawer or in the toe kick that slides out like a tray. The key to making this arrangement work is to have the tray installed using heavy-duty slides, like the ones you'll get when you get your kitchen designed by Craig Allen Designs.
Custom Beds for Fur Babies. To go beyond the practical, you can pamper your spoiled four-legged babies with custom bed cabinets in the kitchen.
Sound Good?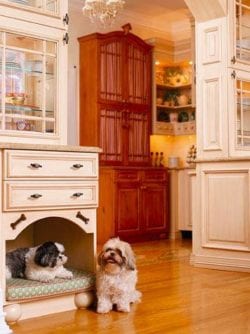 We support your decision to spend your hard-earned money on your pet. But did you know that you can invest money in your pet and add value to your home at the same time? You can with custom cabinets from Craig Allen Designs.
When you choose the team at Craig Allen Designs to create custom cabinets for your kitchen, you'll meet with them to discuss your wants. And this is the time to tell them about your pet's needs. You'll get suggestions that will make your vision come to life just the way you want.
With the help of advanced drafting and design tools, you'll get a digital presentation of your custom-created, unique room design. You won't have to wonder what your cabinets will look like, and you'll have peace of mind about your investment.