Benefits of the Modern Mudroom
Many new homes don't have a mudroom. Rather than dedicate space to a useful mudroom, today's homes come with large entryways, separate laundry rooms and/or gigantic walk-in closets. Although these features are definitely in demand, it's been our experience over the years that people want a mudroom. They might not call it a mudroom, but they're asking for a handsome space where they can take off their coats and dirty shoes when entering their home at the end of the day. That's a mudroom.
Mudrooms are experiencing a surge in popularity. People remodeling their homes ask for them and allocate space to them in their remodel plans; new homes are building them in.
Mudrooms offer a wonderfully practical solution for homeowners who are always on the look-out for more organization in their lives. Busy, hard-working families with demanding schedules filled with jobs, children and pets can find much to appreciate in a well-designed mudroom.
What Is a Mudroom?
In the traditional sense, a mudroom is an entryway into a home where people are meant to remove the mud from their shoes and boots. Keeping mud out of living spaces can be difficult at best., especially with rainy or snowy weather.
When mud and other outdoors debris make their way indoors, they will take a toll on carpets and hardwoods. By having a space where people can remove their dirty shoes before they enter the house, the look of hardwood floors can be preserved and money saved on carpet cleaning.
Today's mudroom serves as a transitional space as people move from the outdoors to the indoors.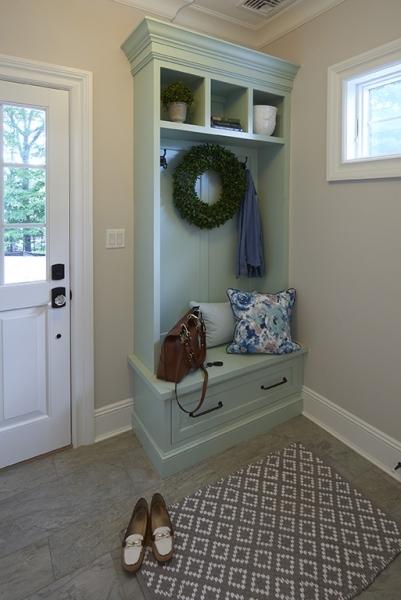 The mud room is typically the first place people enter when they walk through the door, usually from the garage, where keys and bags are dropped and jackets taken off. As the welcome a person gets at the end of the day, the more clean, organized and handsome it is, the better the feeling it creates.
The mud room is no long just a place for taking off dirty shoes, storing kids' backpacks, hanging up coats, removing muddy boots and storing towels to wipe the dog's wet paws. That's all in the past.
Mudrooms have evolved into a space that can be designed and decorated and still do all the things a mudroom used to do.
Mud rooms are meant to keep a home clean from outside dirt, provide additional storage, and keep clutter organized. But that doesn't mean style is out of the equation. With so many design options, a mud room can be stylish and coordinate with the design theme of other rooms. And still function as a catch-all for boots, pet supplies and keys.
Tips to Design a Functional Mudroom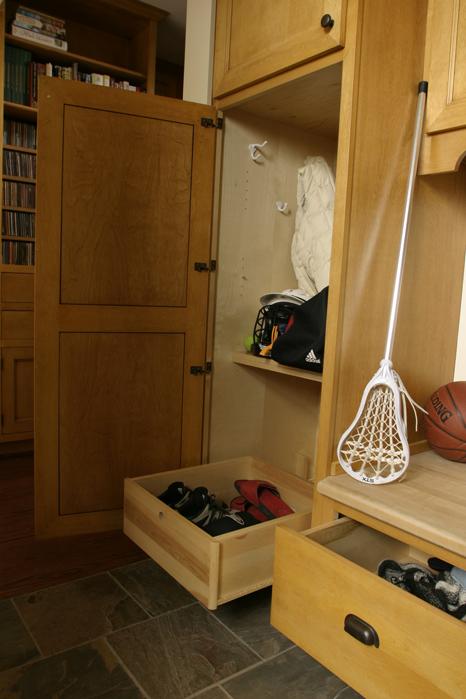 How can a mudroom be set up so that it's functional, good-looking and easy to maintain? When considering what goes into a new mudroom, consider how it will fit your family's lifestyle. Taking the time to figure out what you want to store and organize will help in creating an efficient mudroom that makes life a whole lot easier.
Since people crave a place for all their "stuff"; today's mud room is now the place to organize all that "stuff." The mud room stores everything from backpacks, outerwear, shoes and boots to sporting equipment and pet leashes, using built-in custom cabinets with deep drawers, benches and lots of built-in shelves. Hooks, cubbies and tall cabinets built to look like lockers are great options for kids (and adults) to easily hang and stow away backpacks, lunchboxes and coats.
For a mudroom to be low maintenance, flooring should be easy to clean. Tile, hardwood or linoleum are ideal. The mudroom's walls should be simple to maintain as well. Use washable paint on the walls or install wall board that you can wipe down easily.
Usually keeping the family "stuff" organized is the top priority in mudroom design. For others, a mudroom with good storage for a favorite hobby, like golf, is the main objective.
Or maybe a designated spot for pet supplies and accessories that are scattered all over the house is needed. If you love your pets but not all the leashes, food containers and treats that overwhelm your home, the mudroom can bring order to the chaos. Hooks are nice for hanging leashes, collars and doggie sweaters, while deep drawers can keep pet toys, extra dry food and pet shampoos out of sight.
You'll also need a place to sit for putting on or taking off shoes, boots or skates. Or tying shoes for little ones on the way out the door. A bench seat is ideal because when no one is sitting on it, the top lifts up to reveal more storage, perfect for out-of-season gear.
Something everyone wants in a mudroom is a separate space for each family member. That makes mornings much, much easier, so every person can readily find his or her school and work essentials.
In the morning, the family's gear is waiting in the mudroom to be put on, packed up and grabbed as people rush out the door. The mudroom plays a serious role in helping families get ready to leave the house.
If sports equipment, bags, and shoes seem to be constantly underfoot, again, give everybody a separate space for such gear. Note: open wire baskets should be used for storing damp items to prevent mildew.
The mudroom is an ideal space to post the family schedule and school announcements. A wall mounted chalk board is a good idea for messaging. Chalk board material can be used on the front panels of storage cabinets. Formica now offers a material that can be written on using chalk and then erased.
Cork boards are also good for the family calendar, party invitations and school reminders, etc. They can be used to create a family art gallery.
The best possible way to make the best possible use of the space in your mudroom is by having Craig Allen Designs create built-in storage based on how your family will use it.
Just as Craig designs and oversees the installation of custom kitchen cabinets, he can do the same in mudrooms of any size.
Craig Allen Designs will create custom, built-in shelves and cabinets for things like umbrellas, gloves and shoes. Your shelves and cabinets will enable you to keep your things in order while giving your mudroom a welcoming, appealing look and feel.
To learn more about elevating the function and appearance of your mudroom with built-in shelves and cabinets, contact Craig Allen Designs today.