Finish Colors Trending for Kitchen Cabinets
While trends in kitchen cabinets come and go, the need for cabinets remains. You don't want your new kitchen to become dated prematurely. You want to stay informed about what's trending in cabinet finishes when considering a kitchen remodel.
"All In" On White
We all know that all-white kitchens have been a "thing" for many years. Even today, white cabinetry remains popular. White is the color associated with health, cleanliness and freshness – the very qualities every kitchen should possess.
In 2019 and moving into 2020, the all-white kitchen has been toned down. Kitchen designers are mixing white with other cabinet finishes. White paint combined with grays and other neutral colors complement the white and don't detract from it.
I predict this trend of combining finish colors will remain popular.
Run with Matte Black
If you want kitchen cabinets that contrast to their white brethren — if you are, in fact, suffering from white cabinet overload — then consider cabinets finished in matte black. Black is chic, elegant and dramatic – everything white is not.
Cabinets finished in matte black won't make your kitchen look smaller. For some reason, people believe it will. Not true! Cabinets finished to show off the natural wood paired with black create a great combination. It would work well the popular farmhouse style.
When used in a kitchen design that includes colored accents, matte black cabinetry can give your kitchen personality.
Combine Wood and White
Current trends in kitchen design encourage creating a space that reflects your taste. preferences and personality. The heck with old-fashioned decorating rules!
Combine cabinets finished with a natural stain that brings out the character and beauty of wood with white trim, countertops and backsplashes. This combination will work beautifully in any kitchen design.
It's all about putting together colors and finishes that you like and want to live with.
Combine Color and White
Homeowners who want the classic look of a white kitchen but also want something trendy can do it by finishing some cabinets in a color they love. Shades of blue and different variations of green are popular.
Consider adding a colorful finish to your kitchen island cabinets and/or countertop. An island with cabinets that are a different color than the rest of the kitchen cabinets makes the island a focal point.
Get Rid of the Unified Look
Having matching wall (upper) and base (lower) cabinets used to be the way kitchens were always designed. Today, having different upper and lower cabinet finishes is a way to personalize your kitchen design. This trend of having two finishes works for any style you like, from farmhouse, to traditional, to contemporary, to transitional.
In general, base cabinets get finished in a darker color than upper cabinets, although there are plenty of exceptions to this "rule."
And more and more people are doing away with wall cabinets and replacing them with open shelves to display their dishes and serving pieces, especially if they have windows that showcase a nice view.
Go Bold!
To really express yourself with your cabinet finish color, go bold. Use color as a means of self-expression! Choose custom cabinets finished in your favorite color. Designers everywhere report that homeowners are making a statement with their cabinet color choices.
Sherwin-Williams supplies paint to cabinet manufacturers that's used for finishing cabinets. They're tuned it to the trends influencing the cabinet industry.
They recently announced their color of the year for 2020 —Naval. They featured a beautiful little kitchen that combined Naval on cabinets with polished brass accents. You can see more here in a video they posted on their website.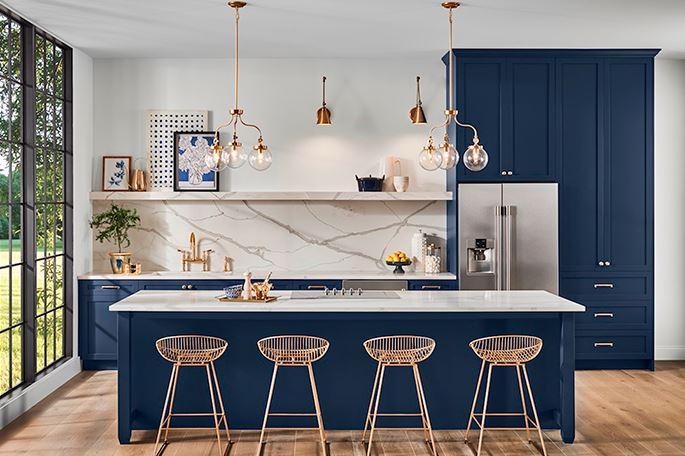 Get in Touch with Craig Allen Designs
Craig Allen Designs has a proven process for designing custom cabinets for clients who want a traditional look, a contemporary aesthetic or anything in between those extremes in their kitchen. Whether remodeling or updating your kitchen, we'll design custom cabinets that create the look you want in your kitchen.
Contact Craig Allen Designs to schedule an in-home consultation today!