25 Ideas for Small Kitchen Design
Everything seems smaller these days. The "tiny house" has its own tv show – "Tiny House Hunters" on HGTV. There's hundreds of boards for tiny houses on Pinterest, and Houzz.com has thousands of photos and hundreds of Ideabooks devoted to the subject of making the most of small kitchen design.
Even if your kitchen has more space than a tiny house kitchen, but you still don't have the square footage you would like for your kitchen remodel project, fear not. Just because your space is small doesn't mean you have to work cramped and inefficiently.
Make the Most of Your Small Kitchen Space
Craig of Craig Allen Designs has the experience and know-how to make the most of a small footprint when designing new kitchens. One of his small kitchen projects measured a mere 8'x8'.
He states that small kitchen design and remodeling can be equally as complicated and complex as any large kitchen. Fitting everything into the space to make it efficient and stylish can be a big order.
Get Your Small Kitchen Ideas Here
With Craig's input, we've assembled the following 25 ideas to get your creativity flowing toward how to make the most of your small space kitchen.
1. Use Wall Space
Don't let any available space go unused. If there's space between your cabinets and the ceiling, you've got storage that can be used to get things off the floor and countertops. Add wicker baskets, and it's the perfect spot to keep items you don't use every day.
2. White on White
You know what they say: white = bright. Keep everything white, then add in color from art, dishes, placemats, etc. Replace dark cabinetry with white to make the room feel twice as big.
An all-white kitchen can create the feeling of roominess, as it offers a seamless transition from walls to floors.
3. Modern Off-Whites
White walls will make the room appear bigger. But if white is too stark, or if you're tired of white, numerous off- white alternatives — sometimes called neutrals — are available to pick from. Soft gray and warm cream are examples of neutrals that can be used instead of white.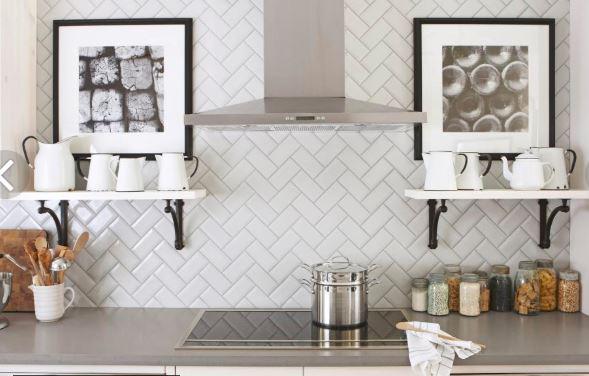 4. Subway Tiles
Use subway tiles all around the kitchen to help the space feel wider. Subway tiles are a classic kitchen element. Making your small kitchen feel larger is one more reason to love them.
5. Go Modern
To make your space look larger, go for modern. The contemporary style will make the room seem bigger.
Minimalism works especially well in small spaces. Clean lines, light colors and uncomplicated fixtures all help create that illusion of space.
6. Functional Kitchen Island
A small kitchen can seem bigger with an appropriately-sized kitchen island. A small efficient and functional island provides additional workspace and storage. It can be used as counter space when preparing dinner. Then you can sit down to eat at it later.
A rolling cart with a butcher block top can serve as an island. It will give you additional storage space, as well as an extra prep area. Most importantly, when it's not in use, just roll it away to save precious square footage.
7. Appliance Garage
To keep countertops clear, store the toaster, blender, air fryer and/or coffeemaker in an appliance garage. When custom cabinets are used for your kitchen remodel, an appliance garage is a possibility.
8. Kitchen Cubbies
To squeeze in extra storage, add little cubbies to fill in the space above a window or anywhere you can.
9. Vertical Storage
Go vertical with a storage system to take advantage of every inch of space available. Vertical drawers are ideal for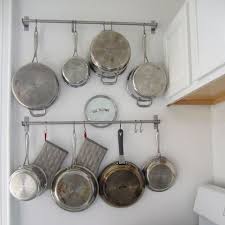 using up the awkward gaps between appliances, walls or cabinets.
10. Hang Pots and Pans
Hang your pots and pans on a rack mounted on the ceiling. It's functional and stylish! Plus your pots and pans are within reach when they're cooking.
If you don't want a pot rack, hooks can be used to hang pots and pans on a wall.
11. Think of Kitchen Tools as Art
If your kitchen cabinets are too cramped to fit all of your cooking equipment, use the more attractive items as decoration. Cutting boards or colanders can double as artwork. A row of matching mixing bowls above cabinets can brighten up the room.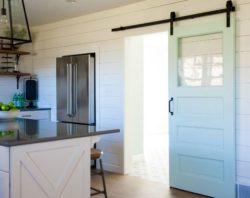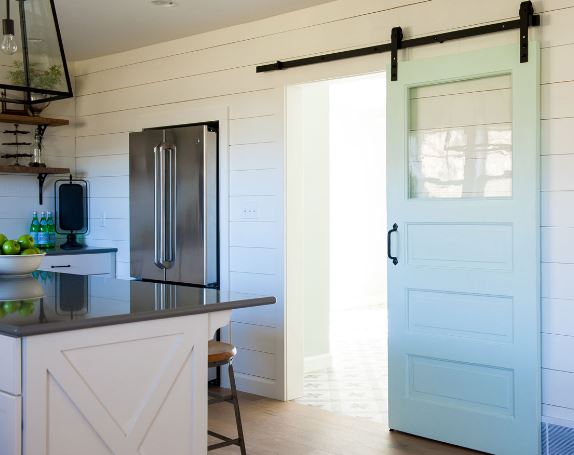 12. Sliding Barn Doors
If there's no room to open doors into a small room, sliding barn doors not only look great, but they save space. They are available in many materials and can fit into any décor, from farmhouse style to Manhattan high rise. They're even available in glass.
13. Mirrored Backsplash
Mirrors always make a room look larger. Mirrored backsplashes help reflect the light and open up the space. The only downside is that they have to be cleaned regularly.
14. Lots of Windows
If you're remodeling your kitchen and don't have the square footage to make your kitchen larger, adding in lots of windows makes a small space feel less closed in.
15. Open up with a Skylight
No windows? Open up the ceiling with a skylight if that's possible.
16. Pull-out Work Spaces
Countertop space is usually at a premium in small kitchen layouts. Get creative with pull-outs. A hidden cutting board pull-out comes in handy when you need extra room for chopping.
A pull-out kitchen table is perfect for adding extra work space, and it can also be your dining table. And it's easily stowed out of the way when not in use.
17. Drawer Organizers
Keeping your kitchen clutter under control is half the battle to make it appear bigger. Drawer organizers will keep all your kitchen stuff neatly in place, away from sight yet within easy reach.
18. Storage Space-Savers
For small kitchens, cabinet storage should use every inch of space. Vertical tray dividers, shelves on the backs of doors, two-tier cutlery dividers and roll-out shelves help organize items so everything is within reach.
19. Floating or Open Shelves
Floating shelves eliminate the closed-in look of standard wall cabinets and open up small spaces.
20. Use Corner Space
That hard-to-get-into corner space is almost always going to waste. Install corner cabinet shelves, a lazy susan or a clever European-designed multi-level pull-out/swing-out that will allow the space to be used efficiently. And make it easy on yourself to reach and put back the items.
21. Under-bench Storage
Not only does a built-in bench seat take up less space than chairs, but it also has storage hidden underneath the seat cushions. A bench seat can even incorporate drawers at floor level.
22. Glass Front Cabinets
Glass front cabinets let you see inside of them. And they increase the amount of visual space.
23. Incorporate Lots of Light
Add under-cabinet lights to brighten up a small space and make a cramped kitchen more functional and attractive. Today's LED lights are perfect for lighting cabinet and drawer interiors. They can even illuminate the toe space.
24. Choose Compact Appliances
Appliance manufacturers now offer different compact appliances to work with any small space kitchen design. Even if a slim refrigerator can't fit, there are other options, such as an under-counter fridge or refrigerator drawers. Dishwasher drawers are also an option.
25. Use the Wall
Don't waste any usable wall space. A magnetic strip on the wall will hold knives. A wire grid with u-hooks can be used to hang spatulas, cooking spoons, ladles, and other utensils.
Craig's Experience
One of Craig's small kitchen designs presented him with challenges that required him to think in new and different ways. His client had a "must have" list that was non-negotiable. His work was cut out for him to fit in all the things she had to have.
One of his suggestions was to install cabinets above the windows to increase storage space. She didn't want them because it would look too cluttered.
She did accept his suggestion for a two-step island that creates a barrier between any cooking mess and the living area.
Rather than a tall refrigerator, the client chose refrigerator drawers. In place of a range hood, the stove is a Jenn-Air with downdraft.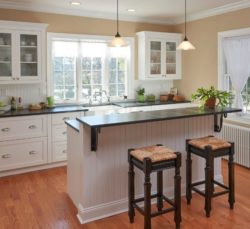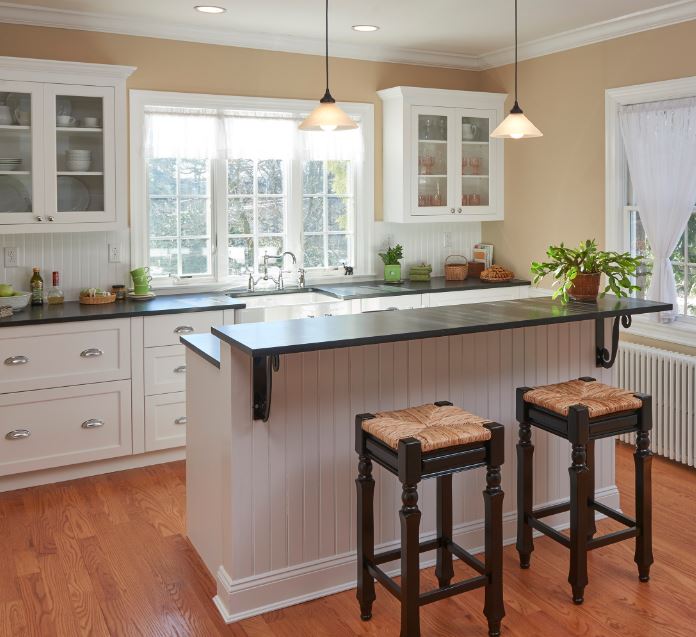 Decorative elements, like beadboard on the wall and the island back, wrought iron supports, hardwood floors and light color on the walls, work with the fine white painted finish on the cabinets to give this small space kitchen all the charm of any larger kitchen.
Sources for further ideas on small kitchen design: