The Best Kitchen Cabinets for Your Remodeled Kitchen
Are you about to undertake a full kitchen remodel? Or are you simply looking to give your kitchen a fresh appearance? Either way, you'll want the best kitchen cabinets in your kitchen. Installing new cabinets will completely transform the space.
Cabinets will be the focal point of your new kitchen.
Cabinets take up the most floor and wall space
They are the most expensive item in a kitchen remodel, next to labor costs.
You can alter the look and feel of the entire space by installing new cabinets.
Understanding Your Options for the Best Kitchen Cabinets
Whether you already know how you want your new cabinets to look or your goal is to get more storage for your kitchen gadgets, it's important that you're familiar with the various options available to you.
Here are some of the kitchen cabinets you can choose from:
Custom Cabinets
Unlimited selection of finishes and woods
Permits the greatest design flexibility
Made with the highest quality materials
The smart choice if you need a unique design
Makes the most of the space in a small kitchen
Ideal for fitting cabinets in a kitchen with an odd shape
The most expensive option
Semi-Custom Cabinets
They're functional
Provide design versatility
Available at cost less than custom cabinets
Offer many of the design features available with custom cabinets
less variety in woods and finishes
Note: If your heart is set on natural Cherry cabinets without any sap marks or other wood characteristics, semi-custom cabinets might not be for you.
Stock Cabinets
Offer the least amount of customization
Have the fewest number of options when compared to custom cabinets and semi-custom cabinets
Can save you money
If you're on a tight budget for your kitchen remodel, stock cabinets are your best choice. A good designer can help you get the most kitchen for your money.
Construction Choices
There are basically two types of construction methods used to make cabinets: framed and frameless construction.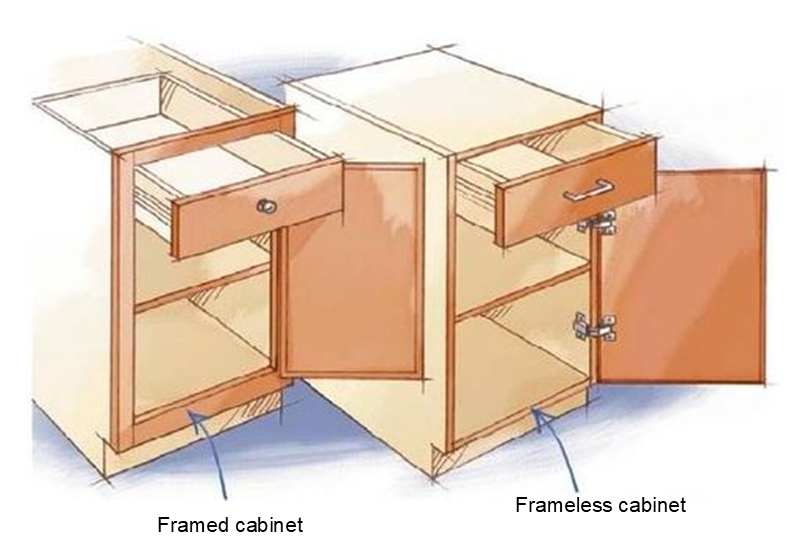 Framed cabinets have vertical stiles and horizontal rails that cover the cabinet box. This kind of construction is more conventional than frameless construction.
Frameless construction is often called Euro style because the style originated in Europe. This style eliminates the frame and creates a modern look. Without the frame taking up space, frameless construction provides some additional interior cabinet space.
Door / Drawer Options

When it comes to the doors for your new kitchen cabinets, you have a nearly unlimited number of styles to choose from. Here are some of them:
Raised Panel doors
Recessed Panel doors
Doors Made Using Mitered Construction
Flat Panel Doors
If you get custom kitchen cabinets, you can choose any kind of door you want. With Semi-Custom cabinets, you'll still have plenty of choices, but you won't have as many options as you would if you installed custom cabinets instead. If you choose stock cabinets, the selection for your new cabinets will be more limited than with custom cabinets and semi-custom cabinets, but you should be able to find a door style you will like and enjoy for years to come.
Construction Materials and Cabinet Finish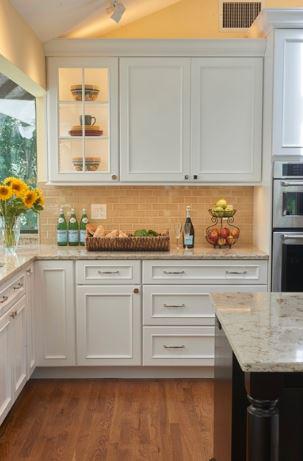 Kitchen cabinets can be built using various wood species, such as Cherry, Oak, Maple and Alder. If you're going with custom cabinets, your selection of wood species will be more varied than if you're choosing semi-custom cabinets or stock cabinets.
Whether you choose paint or stain for your cabinet finish, you will want to see samples from the designer you're working with. Make sure the color matches your expectations. White painted cabinets and gray painted cabinets are very popular, but if that's not for you, stained finishes let the beauty of the wood come through, and many people choose stains.
The key is to pick the finish color that works with the wood you choose.
The wood and finish you select for your cabinets will have a big impact on your finished kitchen. Invest the time when making your selections because it will pay off in the end.
Contact Craig Allen Designs
If you want new kitchen cabinets, we can help you make all the right choices. Based on your input and preferences, we'll create a custom cabinet design for your kitchen. Contact Craig Allen Designs to learn more today.