What's happening in kitchen design trends? If you're considering a kitchen remodel, you'll want to know what's in and what's out.
The Kitchen is the Most Used Room
The kitchen is the busiest, most used room in most homes. A typical kitchen acts as the center of activity in a home. It's where you feed your family and entertain your friends. It's also where you prepare great dishes and try new recipes. Your kitchen may also be the location where you help your kids with their homework, pay bills, and spend hours chatting with your loved ones. On the phone or in person.
Since you spend so much time in your kitchen, your kitchen remodel project must include a consideration of design trends.
Technology
A big trend for kitchens is digitally-connected appliances. Smart refrigerators that tell you when milk is running low and automatically adds it to your digital shopping list is not the latest anymore. Now we're on to the next generation — voice-activated appliances. Your personal assistant can help you with finding recipes and keeping track of diet and nutrition for your family.
You can now tell Alexa to turn on the lights, tell Google to activate the exhaust fan, instruct Siri to turn on the oven to 350 degrees and get the electric kettle heating water for your tea. When your hands are full or covered in flour, you can use your voice to turn on the faucet.
GE, and Whirlpool for example, have suites of appliances that are wifi connected and voice-activated: refrigerators, ranges and wall ovens, microwaves, dishwashers and washers and dryers.
Colors
Colors that are popular in kitchen design tend to change from year to year. Sherwin Williams named Cavern Clay as their 2019 Color of the Year. This warm, inviting color is a great pick if you want to give your kitchen an organic look.
In 2020, a calming hue called Naval as its color of the year.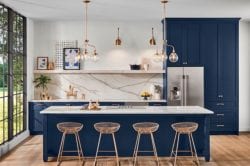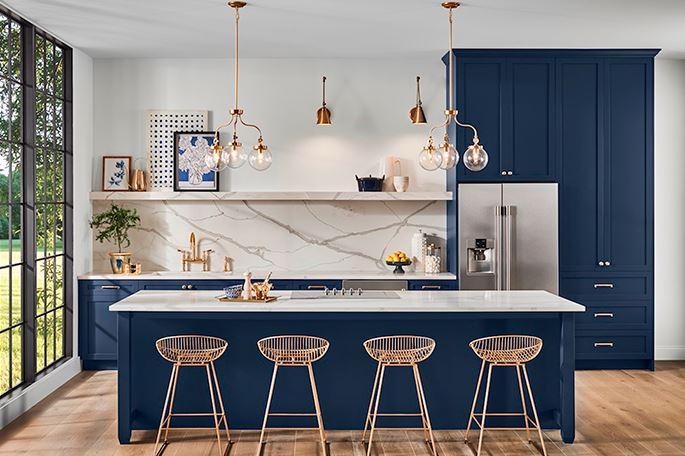 Natural colors and anything related to nature are expected to be widely used in kitchens. Here are a few other colors you may want to use if you're going to remodel your kitchen and want to stay on trend:
Shine is out; matte is in. Matte cabinet and appliance finishes are becoming increasingly more popular, and as a bonus, they are easier to keep clean since fingerprints don't show as easily.
Although nature-themed colors are getting a lot of attention, deep darker colors, like Hunter Green and Matte Black, are being used as accent pieces.
Is there a move away from white painted cabinets,? White remains the #1 favorite, and we see no end to this timeless color. But more homeowners are requesting natural wood finishes, particularly on an island or hutch, to break up the white-on-white and create some contrast.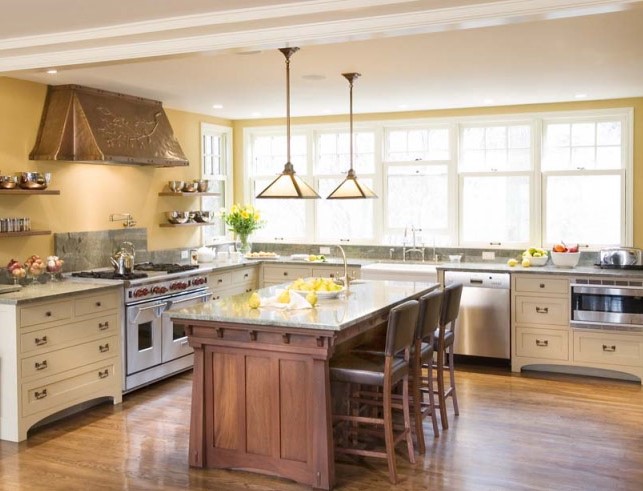 Cabinetry
Kitchen cabinetry needs to be both stylish and functional. Eliminating clutter was named as an important goal when remodeling a kitchen, so deep, wide drawers continue to trend.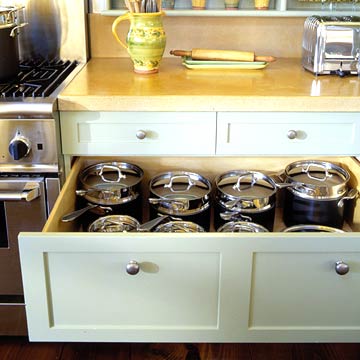 Dish storage systems for deep drawers can store plates and soup bowls; they are ingenious. Extra-deep drawers are more accessible than base cabinets, and they're simple to integrate into a beautiful kitchen design. When installed near the range or cooktop, they are ideal for pots, pans and lids storage.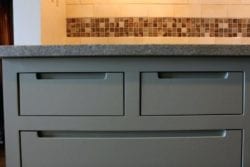 Another emerging trend is using cut-outs as handles or having handle-less cabinets. If you're going the cut-out route, your cut-outs can be any shape or size although most people seem to prefer round-shaped holes. For people who don't want any kind of visible handle, long indents that run along the bottom of their cabinet doors is a smart alternative.
Using open or floating shelves instead of closed wall cabinets continues to trend.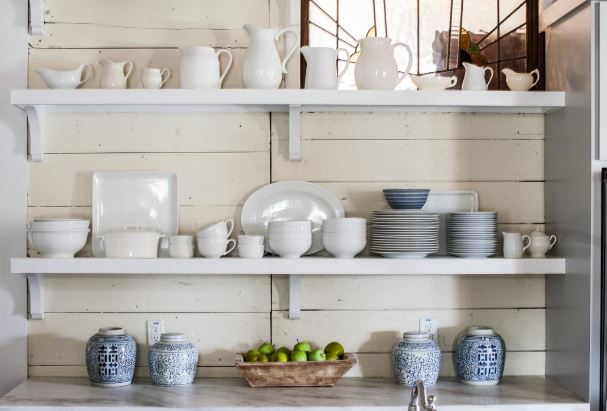 Open shelves are great for items that you use regularly, such as the plates and glasses you use daily. Since homeowners want less clutter, and a feeling of openness, eliminating wall cabinets helps to create this feeling. It makes the kitchen feel larger.
Materials
Quartz and hardwood flooring have long been popular in kitchens, but alternate materials are being used more often. Whether they're used as accents or they're a focal point, here are some of the materials you may want to incorporate into your kitchen design:
Marble or marble-look quartz with contrasting colors
Subway tiles in colors other than white. And tile extended from countertop to ceiling.
Concrete countertops and backsplashes
Oil-rubbed bronze cabinet hardware is no longer popular. Now we're seeing the return to gold-toned or brass faucets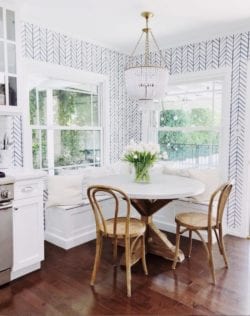 and hardware. Copper is also an option and is in keeping with the return-to-nature trend.
Banquette Seating
Here at Craig Allen Designs, we've always liked banquette seating, so we're pleased to have more people asking for banquettes. Not only do they look great, they are highly functional, providing seating and storage.
What's On The Way Out?
We looked at what's trending, so what is sliding down the list of popular kitchen remodel features?
Pot racks. Use deep drawers instead and keep your cooking equipment dust-free. And de-clutter your kitchen.
Corbels and onlays. Simple and clean lines are popular now.
Stainless steel. Stainless steel finish for appliances has had a good run, but people are tired of it and are looking for alternatives. Graphite is an option.
Any shiny finish. As we mentioned, matte finishes are trending.
Granite countertops. Quartz has replaced granite as the most requested countertop material.
Any stained cabinet finish with burgundy-red or orange-brown tones. These colors have been replaced by painted or natural stained finishes.
Anything ornate. The contemporary look calls for sleek, simple lines with little or no ornamentation.
Schedule a Consultation with Craig Allen Designs
If you're going to remodel your kitchen in 2019, you should work with a celebrated designer that's familiar with all the latest kitchen design trends. And that designer is Craig Allen Designs. Read about our kitchen design services and contact us to schedule a consultation today.