Protect Yourself When Hiring A Contractor
As you start thinking about remodeling your kitchen, consider this: selecting a contractor is as important as choosing your kitchen designer.
Think about it.
The kitchen designer is a visionary – he or she "sees" what your new kitchen is going to look like, and that's why you chose him or her. He listened carefully to your ideas, he looked at the pictures your brought to your meeting, he looked at your Ideabooks on Houzz.com, he added some practical suggestions to make your new kitchen both stylish and practical.
You couldn't be more pleased with his design ideas and his virtual tour of your new kitchen layout is just what you wanted so you could visualize the finished space.
But…
Without a contractor to take his vision, ideas, drawings and plans and do the actual physical labor necessary to turn those concepts into a space you can touch and feel and live in, well, that's all you'll have – a vision.
Craig Allen grew up in the home remodeling business. He was swinging a hammer in his father's business when he was a teenager and after that, spent years remodeling kitchens and installing cabinets. He's been in charge of numerous projects; he knows what's what when it comes to getting a remodel project from "dream" to "complete."
These days, Craig specializes in designing kitchens. It's his passion. To him, excitement is the challenge of figuring out how to work into the design all items on a customer's wish list and keeping the project on time and on budget.
He understands the importance of finding the right contractor for each and every job for which he creates the design. He wants to see his ideas come to life almost as much as his customers.
How does Craig work with contractors to keep your kitchen remodel project on schedule?
When the design for the kitchen remodel is finalized, Craig meets with the contractor for your project and reviews plans and drawings with him. During the course of the project, he makes multiple trips to your home; i.e., the jobsite, to check and double check that all dimensions are correct. He will visit again after the framing is done, before sheetrock goes in.
When the cabinets are delivered and ready to be installed, Craig will be there to make sure cabinets are delivered correct, that the order is complete. Craig understands that cabinets are one of the last things that go in, and the contractor is usually up against tight deadlines.
That's where Craig's expertise saves the day – his design and order process is down to a science so that cabinets get delivered on time and as ordered. When cabinets are ordered incorrectly or delivered damaged or the order is incomplete, it can cause time-sucking delays. And those delays and re-orders are expensive.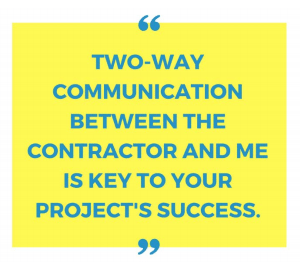 If the contractor has questions about the installation, Craig is available for consultation, either in person or on the phone. He knows that the cabinet installation must integrate seamlessly with the rest of the project. Thorough planning ensures that there aren't any unpleasant surprises. Craig emphasizes that two-way communication between himself and the contractor is key to project success. They have to be in contact regularly while the project is progressing.
That's how Craig selects his preferred partner contractors: by their willingness to work with him and keep him in the loop throughout the remodel project.
How do you get to the contractor who is right for your job?
When you come to Craig to design a new kitchen, he welcomes the opportunity to work with your contractor.
If you don't know how to find the contractor for your project, Craig has "preferred partner" contractors he can turn to. He's worked with them in the past, and he knows and trusts them.
He will consider who is the right contractor for your project.
Will structural changes, such as moving walls, adding a room or raising a ceiling, be involved? If so, he will use a contractor who is also an architect or who has an architect on staff.
Have Utmost Confidence in one of Craig Allen's Preferred Partner Contractors
When you choose Craig Allen Designs for your kitchen remodel project, you are getting more than a kitchen design. Craig has a network of contractors he works with. They have the skill and know-how to bring his design vision from concept to reality.
When selecting a contractor for your kitchen remodel project, Craig considers the unique aspects of your project. He matches you with the right person for the job.
Craig is hands-on and personally involved in your project. When you have questions or concerns, you can call him directly.
That's the beauty of working with a small business owner — he is hands-on and totally involved. He brings many talents to your project — organization, scheduling capability, availability, and attention to detail ensure a superior result.