Be Prepared Before Starting a Kitchen Remodel
A kitchen remodel is probably the most complicated project many people will ever take on. And a talented, experienced kitchen designer can remove the guesswork, streamline the process and make it possible for you to get the kitchen design you've always wanted.
A kitchen designer's expertise is focused on ensuring a kitchen works efficiently and makes the most of the room's style, storage and function. They know about what works and what doesn't. They're continuously learning from their clients what they do and don't like about their old kitchens and what they do like about their new kitchens.
A kitchen designer can help you budget wisely, avoid mistakes, make the space beautiful and functional, and introduce you to new products and cabinet interior accessories.
With access to planning tools and technology and the inside scoop on trends, new materials, building codes and technical ins-and-outs, a kitchen designer's know-how can save you a lot of time, money and frustration.
Your kitchen remodel won't be as fast or easy as you've seen on "home makeover" TV shows. It's a serious investment in both finances and time.
Be Prepared for your Kitchen Remodel
We've outlined the most important considerations for you to think about before you begin the process of hiring a kitchen designer and undertaking a kitchen remodel. If you are prepared with the knowledge of what to expect, the right questions to ask and answers to the questions the designer will ask you, your kitchen renovation experience will go smoothly and will result in the kitchen of your dreams.
#1 Do your research
The first meeting with the kitchen designer will be easy if you have a general idea of the look you want. Browse decorating websites and magazines for kitchen design photos that show what appliances, cabinet styles and finishes and flooring options you want and share them with your designer. A picture can communicate clearly what you may struggle to capture in words.
#2 Be Ready for Designer's Questions
The kitchen designer will want to know about your lifestyle:
Who's in the family?
What's your cooking style?
Where do the kids do homework?
Do you pay bills in the kitchen?
Are there height or accessibility needs?
Do you have pets?
Are the cooks right- or left-handed?
What activities should your kitchen be designed around?
Multiple cooks
Fixing take-to-school lunches
Entertaining a few guests
Throwing large parties
Family dinners
Conversing with guests while cooking
Quick, on-the-go snacking
Doing homework
Reading quietly with morning coffee
Feeding pets
Leaving notes
Paying bills
The more clearly you can describe what happens in your kitchen, the more you'll be able to design a new room that fits the way you live your life.
#3 What problems can a kitchen remodel solve?
Identify the problems you'd like to correct with your redesign.
The cabinets and/or appliances are broken and/or failing
Not enough space for multiple family members to work together in the kitchen
The kitchen is cut-off from other living areas
Not enough counter space
It's difficult to get to food, utensils, pots and pans storage
Traffic flow is awkward when we have guests
The kitchen is a "catch-all" for everyone's stuff when they walk in the door
The pets make a mess in the kitchen
The view from the kitchen sink is unpleasant
#4 Determine the Scope of the Project
Your new kitchen might require structural work you aren't aware of. This is probably true if you are having a complete redesign that will alter the space with features that include:
removing existing walls
levelling floors and ceilings
building out tray ceilings
re-wiring for dedicated electrical circuits for kitchen appliances
moving plumbing
The kitchen designer you choose to work with will be able to tell you what's needed, how long it will take to accomplish and how much it will cost.
#5 Stay flexible
The kitchen designer may point out potential problems with items in your wish list. On the other hand, he or she may introduce you to options you hadn't considered.
Be open to suggestions — after all, expertise is why you decided to work with a kitchen designer.
#6 Be Candid About Your Budget
Talking about the scope of the project should include a truthful discussion about budget. Be honest with yourself about what you can actually afford to spend on a new kitchen. This will also help your designer when making decisions about where to spend and where to make cuts.
A good designer can help you get your dream kitchen and keep it within budget. An experienced designer has the expertise and know-how to stretch your dollars as far as they'll go.
#7 Know What Is Included in the Cost
Verify with your kitchen designer from the very start exactly what is included in the cost of your project to avoid misunderstandings: designs, materials, installation, renovation.
Your kitchen designer will present you with an itemized cost schedule which you pay in installments. And you don't pay in full until the work is done.
#8 Timeline for Your Kitchen Remodel
A good kitchen remodel plan takes time to create, and so does bringing it to life. Most people are surprised to learn that while construction itself takes a month or two in most kitchen remodels, the entire project – including design meetings, drawings, product selections, and construction planning – can easily take six months or more from start to finish.
The important thing is to know the timeline for each phase of the project so you can plan ahead. Your designer will tell you what to expect.
#9 Make sure appliances fit the cabinets
Semi-custom cabinets or stock cabinets come in standard sizes. Cabinet manufacturers know which appliances their products work with, but there may be discrepancies. The kitchen designer should tell you right away if there might be a fitting problem.
Of course, if you choose custom cabinets, fitting is not an issue as cabinets will be made to accommodate the appliances of your choice.
#10 Keep changes to a minimum during Kitchen Remodel
Depending on how far along in the project you are, change orders can be anything from a minor nuisance no big deal to a major issue. Not only will changes delay progress, they will also cost you.
If there's a change that must be made for you to enjoy and use your new kitchen, it's best to speak up than to end up living with something you don't like. But be aware of the consequences of making changes.
#11 You + Designer = Good Match
The ideal designer-client relationship is based on honesty, trust, communication, respect, and a sense of teamwork.
To ensure you and the kitchen designer you are considering are a good match, here's a list of questions to ask when interviewing him or her.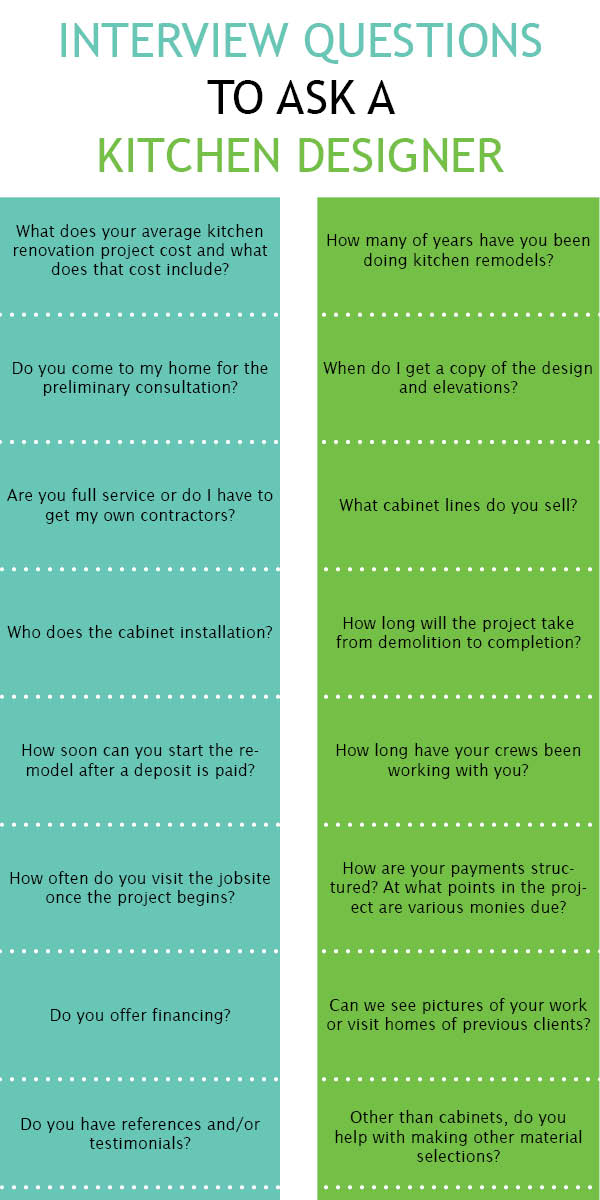 Craig Allen Designs is a kitchen, bath and home cabinetry designer, supplier and installer. For more information about how Craig does business, visit his website at Craig Allen Designs